Corporate Bond Buyers Step Up, Sopping Up September's Deluge
(Bloomberg) -- The U.S. investment-grade bond market is, for now, defying the rule of supply and demand.
Bond spreads are nearing five-month lows even as September supply is set to surpass January's year-to-date high. Sales have already reached $114 billion, and as long as more than $6 billion prices this week -- as market participants anticipate -- September will pass January's $120 billion.
Buyers are reacting to positive economic data, higher overall yields and valuations in equities and other markets, according to Scott Kimball, portfolio manager at BMO Global Asset Management in Miami.
Investors "are turning to fixed income as an area to put additional cash to work," he said by phone. "There's a lot of cash and other asset classes are looking rich by comparison."
Borrowers and investors have rushed to sell bonds amid oversubscribed order books and spreads on new issues that have tightened through the pricing process. Trading volumes have been strong and bonds recently issued in the primary market continue to perform well in secondary. And dealer inventories are low, according to New York Federal Reserve Bank data, suggesting trading desks are actively making markets.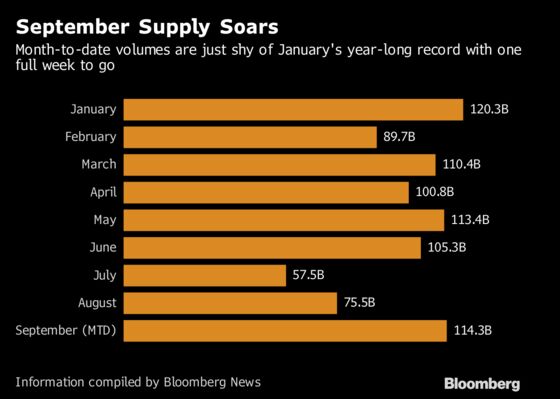 In June, when massive M&A-related funding by Bayer AG and Walmart Inc thrust monthly supply to $105 billion, the busiest June on record, spreads then blew out to the highest levels seen all year. When coupled with an uncertain macro-economic backdrop -- global trade tensions and Italian political turmoil -- borrowers and investors then sat on their hands, with July volume the lowest seen in five years.
Credit spreads have been tightening this month as volatility has eased back and investors shrug off macro tensions.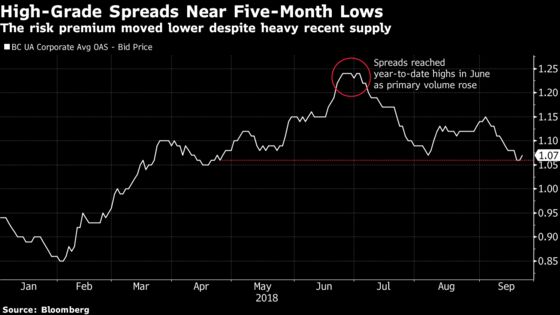 "The 'risk' markets seem willing to look straight through ongoing trade tensions, the prospect of tighter monetary policy and persistent emerging market pressures," wrote Wells Fargo & Co's Head of Credit Strategy George Bory in a recent note. Bank of America Corp. analysts attribute the recent move in spreads to rates -- a combination of rising rates and lower volatility.
"While investors are not keen on catching a fallen knife when rates are increasing and not stabilizing, they love higher yields when rates are perceived to be relatively stable," analysts led by Chief U.S. High Grade Credit Strategist Hans Mikkelsen said in a report published earlier in the month. The 10-year Treasury yield touched the highest in four months on Monday.
"As yields continue to move higher, there will be more and more incremental buyers of corporate debt," BMO's Kimball said.
According to the Wells' analysts, there may not be much further to go. "In the near term, credit spreads are likely to hold in and could grind a bit tighter, but we believe we are very close to the bottom end of the range."