USC Halts China Study Abroad, Duke Venture Idled After Virus
(Bloomberg) -- Princeton University ordered some students who returned to campus from China to isolate themselves. The University of Southern California suspended study abroad programs in the country. Trinity University brought back six students studying in China.
Colleges across the U.S. are moving to protect their students and faculty from the coronavirus outbreak. About 370,000 Chinese students attend U.S. higher education institutions, one-third of all those from abroad and more than any other country, according to the Institute of International Education.
"You'd be hard pressed to find a major U.S. university that doesn't have some form of engagement in China," said Michael Schoenfeld, a spokesman for Duke University in Durham, North Carolina. "If you're a global institution and you're not prepared for something of this scale, you're going to have to get there."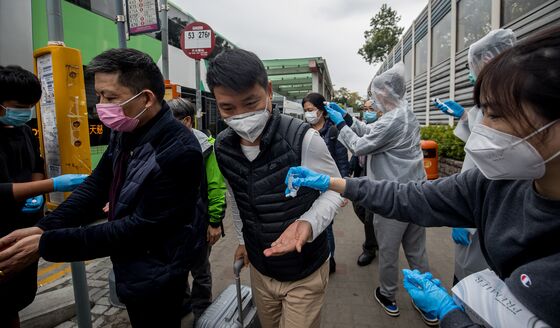 The virus is a particular challenge for Duke, which has a joint venture with Wuhan University in the Jiangsu province near Shanghai, nearly 400 miles from the site of the first outbreak in Hebei. Duke Kunshan University, which hosts 700 students, postponed spring semester classes and restricted staff, students and faculty, with the exception of essential personnel from campus, through Feb. 24. It's also provided students with a $1,000 travel stipend to return home on short notice.
But 40 students still remain on campus, quarantined. They are Chinese nationals from places most affected by the outbreak, like Wuhan, and are unable to return home due to travel restrictions. Schoenfeld said the remaining students are accompanied by some administrators, security and food service staff.
Sophomore Samantha Tsang, a 19-year-old international student at Duke Kunshan, was traveling on holiday in Hong Kong when she received an email from the university notifying students about the new restrictions. Unable to return to campus, Tsang relocated home to a New York City suburb on Saturday.
"I don't have any concrete plans for the immediate future -- I'm trying to take it one step at a time because it's easy to become anxious about all the uncertainties," Tsang said. "I feel for the students still on campus. We're still in communication in our WeChat group. There's been an outpouring of support from our community."
At Princeton, the administration initially advised 108 students who had been in China in the past 14 days to self isolate. The school assessed them based on risk and most were considered low risk. By Tuesday morning, only five remaining students needed to be evaluated, according to spokesman Ben Chang.
The University of Illinois in Urbana-Champaign enlisted a group of retired nurses to help students from Wuhan be evaluated faster.
The university has 6,000 students from China, including 150 from Wuhan. Some returned to campus after traveling home for semester break. While no cases of coronavirus have been found, the school halted trips that it sponsors to China, according to Robin Neal Kaler, a spokeswoman.
Student groups are adjusting too. The Chinese Students and Scholars group at the university is encouraging classmates, especially those who were in Wuhan, not to attend unnecessary events.

"We have canceled, delayed, or moved to an online format all of our events before Feb. 9," Jasper Sha, president of the group, who traveled home to Beijing over break, said by text message.
About 6,600 students from China are studying this year at the University of Southern California, the No. 2 school in the U.S. for international students.
The school on Jan. 27 suspended all student travel to China before study abroad programs were set to begin there after Feb. 10, according to a spokeswoman.
Trinity University in San Antonio, Texas, brought six students back to campus from China last week. Another 16 Chinese students will not be traveling to their home country for the foreseeable future, said Tess Coody-Anders, a spokeswoman.

Some American students studying in China were told to make arrangements to return home as soon as possible. Among them was Benjy Renton, a junior at Middlebury College in Vermont.
Renton, who enrolled in a study program in Beijing, flew home to Rye, New York, on Saturday. He expects to be back on campus by week's end. Middlebury, which is known for its language programs, has suspended the three it has across China because of the virus.
"The speed at which it's escalated has been incredibly fast," Renton, 20, said in a phone interview from Beijing last week. "No one is on the street."