Coronavirus Is Leading to Europe's Highest Deaths in Decades
(Bloomberg) -- Overall deaths from all causes have surged in many of Europe's largest economies since the coronavirus pandemic took hold, providing an early report card on their response to the crisis.
Spain recorded almost 49,000 total deaths last month, the most for March since 1975, the year dictator Francisco Franco died. The U.K. reported its biggest weekly tally for 20 years on Tuesday. The only large European country that hasn't reported a surge in deaths in 2020 so far is Germany, where the authorities have said the outbreak is under control.
Such preliminary data are giving a clearer indication of the impact of the coronavirus across the continent. For weeks, those effects have been clouded by discrepancies in the way countries reported virus deaths. Some may have missed early fatalities before testing was widespread or attributed them to other underlying causes, such as cancer or heart disease. Others have excluded nursing homes from their totals.
Differences in the levels of overall deaths highlight the degree to which countries like Germany may have benefited from measures such as earlier and broader testing. The data also show that in hard-hit countries, deaths from the virus have vastly exceeded ordinary levels of fatalities from the seasonal flu.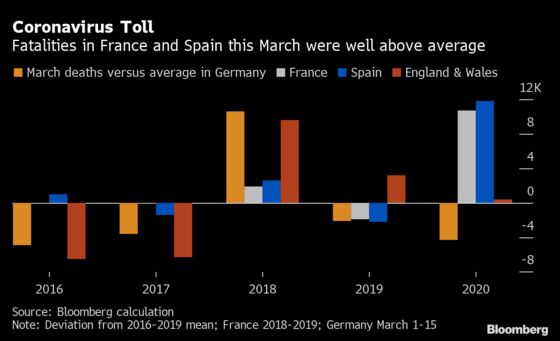 Germany has had "a very aggressive policy of outbreak containment, which they've continued despite the fact that it was quite demanding on their health system," said David Heymann, a professor of infectious disease epidemiology at the London School of Hygiene & Tropical Medicine.
Heymann cautioned that the data are still sparse, and it's too early to draw definitive conclusions. Preliminary indications also suggest that Covid-19 hasn't merely displaced other causes of death that may be reduced by lockdowns, such as car accidents and crime, at least during the period when infections began cresting in many countries.
More than 180,000 people have died globally from the Covid-19 disease, with about 2.6 million infected. Some, like Italy and Germany, are in the process of slowly reopening their economies. All nations are trying to avoid a second wave of the disease that would require further lockdowns.
France reported 76,246 overall deaths from March 1 to April 6, the most for the period in at least three years, according to the country's statistics agency.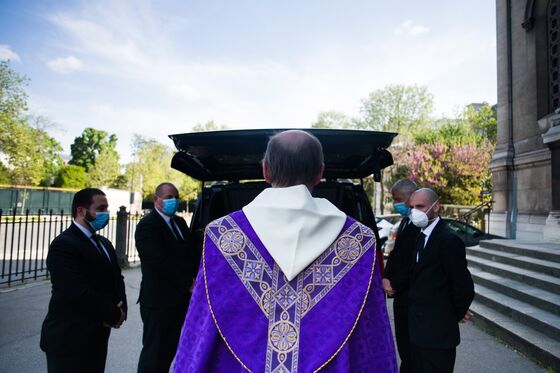 In Italy, deaths from the start of the year to April 4 increased 30% on average from a year earlier in the 1,689 municipalities that have suffered the most from the virus, according to data from the Italian National Institute of Statistics. Those areas contain almost a third of Italy's population. Mortality rates for the whole country aren't yet available.
"These are now officially mass casualty events," said John Troyer, director of the Centre for Death and Society at the University of Bath, England. "Over the course of the year, and this will be written about for decades to come, what we'll be looking at is different causes of death," including non-virus deaths that happened because of the attention on Covid-19.
Germany's comparatively positive figures come with a hefty caveat: The country currently has 2020 data available only up to March 15, well before the virus peaked in Europe. But they provide an early indication that Germany may be faring better. In fact, its total of 41,254 deaths in the first two weeks of March was the second-lowest on record in the past five years.
"If we continue to control the virus as well as is currently the case, then we probably will barely see the effect on the total deaths," Lars Schaade, vice president of the Robert Koch Institute, Germany's public-health authority, said Tuesday. "We hope to keep it stabilized so there's perhaps a blip, but not a big wave."
What the numbers don't yet reflect is the degree to which deaths may have been caused indirectly by the virus as a result of lockdown measures. While things like traffic fatalities and gang violence may decline, domestic abuse homicides, suicides and cancer deaths may increase, according to charities and doctors.
In the first three weeks of the U.K.'s lockdown, there were at least 16 domestic-abuse homicides, according to Solace Women's Aid, London's largest provider of domestic-abuse support services, which cited figures tracked by a campaign called Counting Dead Women. That's more than double the normal rate and the highest it's been for 11 years, in the aftermath of the financial crisis.
"The picture is pretty bleak," said Fiona Dwyer, chief executive officer of Solace. "We're preparing for a huge spike in demand post-lockdown" as women who may have been unable to seek help during isolation come forward.
Karol Sikora, a British oncologist and professor at the University of Buckingham, also expects a surge at cancer wards, particularly if lockdown measures are extended.
"Once everything opens up, there's going to be a huge backlog," said Sikora. "Therefore people will have stage one cancer converted to stage three and four cancer."
The news isn't all dire, however. While a full picture of the impact of Covid-19 on global mortality rates may be months or even years away, some think it could also lead to positive changes as the world pays more attention to health systems and hygiene.
Vladimir Canudas-Romo, a demographer and associate professor at the Australian National University, predicts the messaging around the pandemic could benefit population health in the same way the Spanish flu did a century ago.
"After the 1918-19 pandemic, there was a catching up effect on life expectancy to higher levels than those seen before the flu," said Canudas-Romo. "We have healthier populations, and we are experiencing massive global public-health interventions that will stay with us beyond this."