Coronavirus Disrupts Johnson's Bounce as U.K. Services Slow
The coronavirus outbreak is disrupting the U.K.'s nascent economic recovery in the wake of Boris Johnson's election win.
IHS Markit downgraded its assessment of the whole economy's performance in February, a move partly driven by slower growth in services -- the nation's dominant sector. The firm said the virus was the "main headwind to growth" in the month, and had led to cancellation of bookings and delays to new projects from companies in Asia.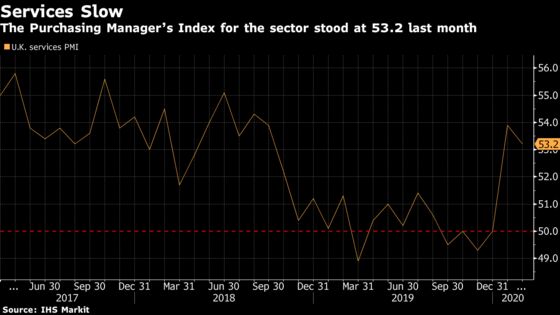 The outbreak has accelerated since the survey closed on Feb. 26, meaning the results give only an inkling of the economic pain that may be to come. On Tuesday, the Federal Reserve delivered an emergency interest-rate cut and Bank of England Governor Mark Carney said the U.K. would take all necessary steps to help.
The pound traded down 0.3% at $1.2782 as of 9:33 a.m. in London.
A pickup in surveys such as the PMIs in the wake of the election was a major reason behind the BOE's decision not to cut interest rates in January.
While the readings remain stronger than they were in 2019, they also suggest some of that momentum is already starting to fade.
IHS Markit's Purchasing Manager's Index for the sector stood at 53.2 last month, lower than 53.3 originally estimated and down from 53.9 in January. A composite measure for the whole economy was at 53, also a downgrade from its flash reading of 53.3.
Expectations of a policy response to the virus mean a 25-basis-point cut is almost fully priced in for March's BOE meeting -- Andrew Bailey's first as Governor. Bailey is due to make his first public appearance connected to the role later Wednesday.