Corn Powers to $5 and Soybeans Spike 
(Bloomberg) -- Soybean futures in Chicago extended their winning streak for a sixth day and corn exceeded $5 a bushel on expectations that the U.S. will cut domestic supply forecasts for the crops.
The oilseed touched a six-year high and may still be under-priced due to the severe tightness of U.S. stockpiles, according to Rich Nelson, chief strategist at Allendale Inc. While corn isn't seeing as extreme a shortage, soy bullishness will bolster the grain, he said. Meanwhile, farmer protests and dry weather in South America could further tighten supplies.
The U.S. Department of Agriculture is likely to reduce its domestic corn stock outlook in its next crop report on Jan. 12. That's "great news" for markets, and will support about $4.90 a bushel for the grain, Nelson said in a telephone interview.
Meanwhile, crop giant Cargill Inc. said Wednesday that the global soybean rally still has further to go as the world needs higher prices to curb demand.
Supply concerns come as China goes on a crop-buying spree and bets on an economic recovery, luring investors back to commodities. Feed-grain demand in the Asian nation is swelling as it rebuilds its hog industry after a devastating swine disease. Hedge funds have a near-record, net-long position across agricultural markets.
Argentina last week announced a temporary suspension on corn-export licenses, prompting farmers to plan a three-day January sales halt in protest. Dryness in the region has raised concerns for corn and soy harvests, while top wheat shipper Russia will curb grain exports from mid-February to tame food inflation.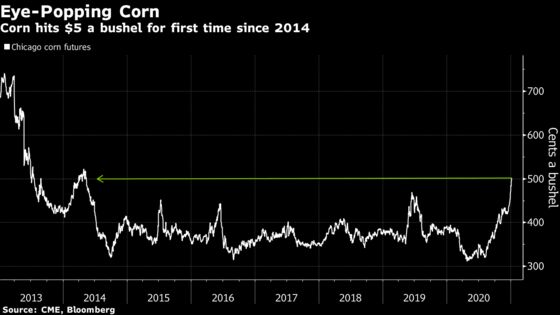 "Weather issues, government intervention and strong export demand suggest the current commodity bull run has further to go in 2021," Rabobank said.
More on grains and oilseeds:
Crop Trader Cargill Says Higher Soy Prices Needed to Curb Demand
Argentina 2020-21 Soybean-Output Estimate Cut 2% by USDA FAS
DOE: U.S. Ethanol Stocks Fall 0.9% to 23.284M Bbl
China's Think Tank Doubles Corn Estimates on Solid U.S. Imports
Palm Oil Extends Scorching Rally to 10-Year High on Bullish Mix
CROP TENDER: Turkey Seeks to Purchase Feed Corn and Barley