Corn Climbs to Fresh Seven-Year High on U.S. Stockpile Outlook
(Bloomberg) -- Corn futures in Chicago climbed for a second day, touching a new seven-year high amid expectations the U.S. government will cut its domestic inventory outlook because of increasing demand from China.
The U.S. Department of Agriculture will reduce estimates for corn and soybean stockpiles by 11% and 14%, respectively, in its monthly supply and demand report Tuesday, according to a Bloomberg survey of analysts. China, the biggest pork producer, is importing record amounts of both crops to feed its recovering hog industry.
Traders also will focus on predictions for U.S. exports and output in South America, which has suffered from adverse weather. Rains have disrupted harvesting in Brazil, while dryness still affects parts of Argentina.
There are concerns Brazil's wet weather will raise the "possibility of more poor quality soybeans," Michael Cordonnier, president of Illinois-based Soybean and Corn Advisor, said in an emailed report.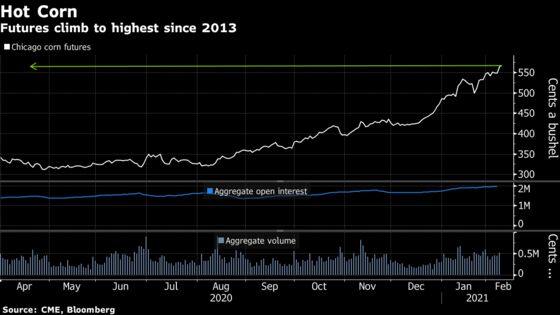 In other crop markets, Paris rapeseed futures rose as much as 0.8% to 448.25 euros ($541) per ton, breaching a seven-year high. The French agriculture ministry on Tuesday cut its planting estimate for the 2021 season, pegging the area at the smallest since 1997.
Prices
Corn for March rose 0.3% to $5.6550 a bushel in Chicago after earlier touching the highest since June 2013.
Soybeans for March increase 0.9% to $14 a bushel.
Wheat for March fell in Chicago and was little changed in Paris.