Populists Split as Conte Seeks Deficit Trim for Juncker Meeting
(Bloomberg) -- Italy's populist government is at loggerheads over how to temper its proposed spending spree, as Prime Minister Giuseppe Conte seeks to forge a new budget plan to submit to European Commission head Jean-Claude Juncker next week.
Conte will meet Juncker in Strasbourg, France, on Tuesday in the latest attempt to avert possible fines on Italy, according to his office. The premier has yet to persuade the euroskeptic Deputy Premiers Matteo Salvini and Luigi Di Maio, who effectively run the government, to accept limits on their landmark election promises to ensure a 2019 deficit target under the current 2.4 percent. Salvini and Di Maio have signaled they'd consider some degree of a cut.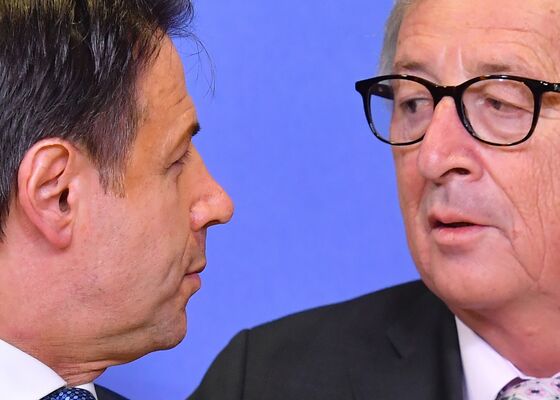 Salvini insisted that a reform to lower the retirement age, a promise from his rightist League party, won't be delayed. "If the measure starts in mid-February or on March 1, I don't think the world changes, but it must start in early 2019," Salvini told Canale 5 television.
Italian bonds have rallied in recent days on the growing prospect of a budget detente with Brussels. Two-year yields, a barometer of potential default risk, touched a five-month low Wednesday, while the 10-year yield spread over Germany has narrowed to 283 basis points, near the lowest level since early October.
Conte's office said no delay in welfare benefits, a key Five Star pledge, is planned, rejecting a report in newspaper La Stampa that Conte wants to delay the so-called citizen's income to June. The newspaper said the two deputy premiers will not budge on a deficit lower than 2 percent.
Newspaper la Repubblica said that for Salvini and Di Maio the 2 percent level is a "Maginot Line," a reference to fortifications built by France in the 1930s to deter a German invasion. Conte may hold more budget talks with Salvini and Di Maio later Thursday, Repubblica said.
Business daily Il Sole 24 Ore reported on the continued possibility of a 1.9 percent to 2 percent deficit, with targets for 2020 and 2021 also possibly being lowered.
The budget, which has to be approved by parliament by the end of the year, is currently being debated in the lower house, with a vote expected Friday. The budget will then go to the Senate, where key provisions including funding for welfare benefits and pension reform are likely to be amended before the package goes back to the lower house for final approval.