Conte Says He'll Quit If Populists Don't Cease Their Sniping
(Bloomberg) -- Italian Prime Minister Giuseppe Conte threatened to resign if the partners in his populist coalition don't stop posturing, demanding they get to work on new policies to help the country.
Conte, a Florence law professor who has acted as a highly pressured mediator in the year-old government, called on Deputy Premiers Matteo Salvini of the rightist League and Luigi Di Maio of the anti-establishment Five Star Movement to halt what he called their permanent election campaign.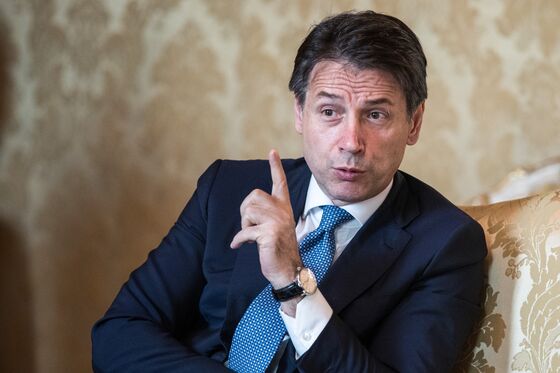 "I ask both political forces, and in particular their leaders, to make a clear choice, and to tell us if they intend to work from now on in the spirit" of the coalition agreement, Conte said in a news conference at his Rome office.
Conte said he's ready to continue in the premier's job "with maximum determination." But he added that if his appeal goes unheeded, "I won't agree to languish just to prolong my presence here. Very simply, I will hand in my resignation."
Conte, who had no political experience before he was catapulted into the premier's office, has grown increasingly frustrated with the war of words between the deputies who call the shots in the populist coalition. Salvini and Di Maio skirmish daily on everything from taxes and immigration to security and an Alpine rail project.
With Italy awaiting a response from the European Union on its recent clarifications about its public finances, the coalition has been roiled by tensions between Salvini and Di Maio, which escalated ahead of last month's European parliamentary vote.
Conte did not set a specific deadline to Salvini and Di Maio, but said he is demanding "a clear, unequivocal reply because the country cannot wait." He repeatedly asked for "loyal collaboration" from his team, calling out both Five Star and the League for sparring last week over his attempt, along with Finance Minister Giovanni Tria, to prevent Brussels from punishing Rome over its failure to cut the debt load.
Salvini, who had five campaign stops on Monday alone ahead of run-off mayoral ballots, responded swiftly. "We've never stopped working, avoiding replying to polemics and even insults," Salvini said in a post on Facebook, where he has 3.8 million followers. "We're ready, we want to keep going and we have no time to lose, the League is here."
Di Maio's Five Star has "always supported this government," the deputy premier said in a post on Facebook. "We want to get to work right away, and we think that facts are the best response," Di Maio said, calling for a government summit as soon as possible.
In his comments Monday, Conte ridiculed the obsession with "collecting Likes'' on social media, the manipulation of the media to political ends, and "the sterile controversy'' of election campaigns.
Acknowledging that "I cannot be certain how long the government will last,'' Conte set down markers including a reminder that European Union budget rules "remain in force until we manage to change them."
That's a comment clearly aimed at Salvini, who has pledged in recent weeks to challenge the bloc's limits on government debt and the budget deficit, as Rome faces a likely rerun of last year's clash with Brussels over spending plans.
But Salvini turned a deaf ear to Conte's reminder on EU budget rules. "The only way to lower the spread is to intervene on jobs and renegotiate the European rules which have led us into this situation of insecurity," Salvini said, in a reference to the much-watched gap between Italian and German bond yields.