Supply Chain Crisis Will Linger, Container Ship CEO Says
(Bloomberg) -- There's little sign of near-term improvement in the global supply-chain crisis, according to Israeli container shipping line Zim Integrated Shipping Services Ltd. 
The Haifa-based company, which has a fleet of 113 vessels, said shortages of everything from truck drivers to port infrastructure are likely to remain for some time yet. The disruption this year has pushed freight rates to record levels for the giant steel containers that haul everything from toys to tables.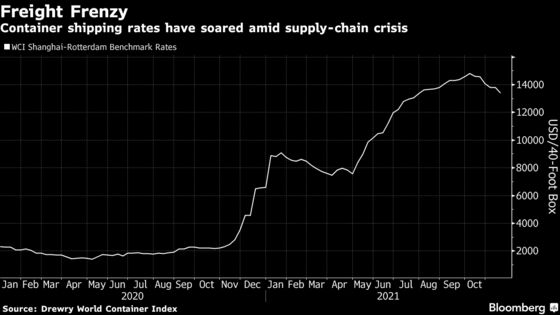 "The supply chain is not in the right order," Chief Executive Officer Eli Glickman said in an interview. "We don't see in the near future that it is going to be changed. Infrastructure is not going to be built in a few weeks."
Along with its larger rivals like A.P. Moller Maersk A/S, Zim has benefited from a spike in container shipping rates as demand for goods booms and supply chains falter amid an uneven recovery from the pandemic. Earlier this week, the company posted net income of $1.46 billion in the third quarter, up more than tenfold from a year earlier.
Demand across all of the company's operated trade routes remains robust, but there is particular strength in the U.S., Chief Financial Officer Xavier Destriau said in the same interview.
"There is not a single trade today where we currently operate which is not under some sort of tension," he said. "Clearly in the U.S. it is firing on all cylinders."