Contagion Fears Return as Turkey Keeps Investors Trapped in Lira
(Bloomberg) -- The most vulnerable corners of emerging markets are bracing for turbulence as Turkey's stand-off with investors begins to test the nerves of traders.
Currencies from South Africa's rand to Brazil's real are witnessing a spike in their expected volatility, signaling concern they may weaken the most along with the lira over the next month. The price-swings have evoked memories of last year when a meltdown in the Turkish exchange rate spurred panic selling across emerging markets.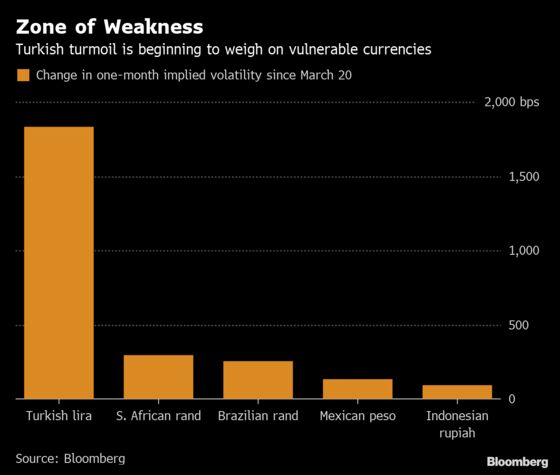 Volatility in the lira has posted the biggest four-day surge since 2004 as officials adopt measures to create a scarcity of the currency to prevent a slump in its value. As overnight borrowing rates crossed 1,000 percent, traders have dumped the nation's stocks and bonds days before an election that will test the popularity of President Recep Tayyip Erdogan.
Read: AllianceBernstein Says Turkey's Lira Measures Aren't Sustainable
Still, the reaction from elsewhere in global emerging markets has been muted. The MSCI EM Currency Index is down less than 1 percent since the turmoil erupted last week. Further losses will depend on what actions are taken by Turkish authorities.
Here are comments from money managers on the risk to other developing nations if Turkey fails to relax controls:
Brendan McKenna, a strategist at Wells Fargo Securities in New York:
"It looks like there is some contagion, mostly focused on the high beta currencies -- the South African rand and the Brazilian real. That's not that uncommon. Those currencies felt some pain after the lira crisis last year too. "
Jason Daw, Singapore-based head of emerging-markets strategy at Societe Generale SA
"The surge in FX swap points seems related to idiosyncratic factors in Turkey rather than a broader squeeze in dollar funding costs. With that said, investors are probably concerned that there could be some contagion to other EM currencies given the experience last year. High beta EM is most at risk from a deterioration in sentiment, but for Asia it is important to realize that the direct trade and financial linkages are very small."
Koon Chow, a senior strategist at Union Bancaire Privee in London:
"The impact is probably limited unless we see a trend depreciation of the lira. A one-off lira depreciation should not have, if it happened, much of an effect because we are in a climate of low Treasury yields and low volatility. Of course there is a risk of a knee-jerk impact given the price action across currencies in July and August last year. South Africa is most vulnerable because of its largish current account deficits."
Marcin Lipka, a senior analyst at Cinkciarzpl in Poland:
"No contagion effect, at least so far. As the overall sentiment to emerging markets is neutral or somewhat positive. The local election in Turkey is troublesome. Erdogan's AKP is losing support in the largest cities and the authorities are overly optimistic regarding the economy."
Patrick Wacker, an emerging markets fixed-income fund manager at UOB Asset Management Ltd. in Singapore:
"We do not see contagion to other EM countries. This was a concern during Turkey's FX crisis last year. Then as in now, we believe Turkey's situation is unique."
"While Turkish bonds are trading wide to their rating, we believe there may be a better entry point once we are past today's reserves data and Sunday's local elections."
Mitul Kotecha, senior emerging markets strategist at TD Securities in Singapore:
"We don't expect there to be contagion. The issues seem to be very Turkey specific."
"The dislocations in the interest rate market seems to relate to a desire from the Turkish authorities to prevent TRY weakness ahead of the 31 March local elections. In this respect they seem to be succeeding."
Jeffrey Halley, senior market analyst at Oanda Corp. in Singapore:
Emerging markets "tend to move as a bloc, so quid pro quo, we should see EM tarred with the same brush here in Asia."
"Turkey is perhaps a symptom and not a cause. The main driver being off course, a potential global slowdown which the rally in developed bond markets has been telling us is in the way all year."
"Investors are already nervous about global growth and the trade talks in Beijing today will hang like a cloud over Asia markets."
Andrey Kuznetsov, a money manager at Hermes Investment Management in London, which manages $44 billion
"Turkish volatility is entirely idiosyncratic and related to country specific events, such as the upcoming local elections"
Emerging markets "benefit from more established financial markets and a dedicated investor base. The universe is no longer viewed as a homogeneous asset class, but rather a diverse group of countries with resilience to withstand a good amount of external volatility"
"Compared to the late 1990s when a crisis in one country or region could cause a meltdown in the broader universe, the situation is starkly dissimilar right now. Case in point is 2018, where notwithstanding numerous elections, sanctions and geopolitical issues, EM credit outperformed developed market high-yield" bonds
"I don't expect this to cause a major contagion to the rest of the universe"