Connecticut to Focus U.S. Aid on Kids, Weighs Early School Start
(Bloomberg) -- Connecticut plans to focus its share of the $1.9 trillion federal pandemic-relief money on education and child care, Governor Ned Lamont said in an interview on Bloomberg Television.
The state is considering starting the next school year in July because as many as 40% of students haven't been in the classroom since the pandemic began last spring, the first-term Democrat said. The additional cash, estimated at $4.4 billion for the state and its local governments, will also allow Connecticut to avoid tax increases or broad layoffs, Lamont said.
"We've got a lot of catching up to do," Lamont said. "It's a chance to make sure it wasn't a lost year."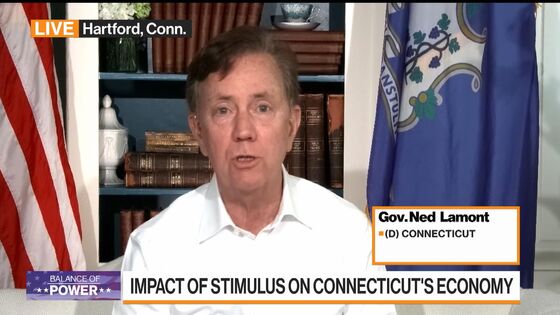 While the vast majority of students in the largely white suburbs and towns of the state are back in school, many African-American and Latino children in cities like Bridgeport, New Haven and Hartford, which have been hit hard by the pandemic, have been more reluctant to return.
Connecticut is considering setting up camps and bringing in college students as apprentice teachers to help. Stimulus money could also be targeted to after-school programs and social workers.
Since much of the state's pandemic-related job losses were service industry workers, the state is also looking to offer free or heavily subsidized child care to help parents get back to work, the governor said.
Connecticut's infection rate is about 3%, with new infections concentrated among younger people. The governor expects residents over 55 to all be vaccinated within the next 10 days.
"Even though we have a 2%, 3% infection rate, it's not really impacting our hospitals or emergency rooms.
Restaurants, retail and houses of worship don't have occupancy restrictions, but the state is maintaining masking and distancing rules.
Republican criticism of the stimulus bill is a "false rap" Lamont said. Texas and Florida, both which rely heavily on sales tax to fund programs, are among states that had the biggest revenue losses from the pandemic. U.S. Senate minority leader Mitch McConnell's Kentucky has among the highest unfunded government employee pensions.