Kavanaugh's Not the Only Accused Man Getting Grilled by Congress on Thursday
(Bloomberg) -- Much of Washington will be consumed Thursday with Judge Brett Kavanaugh's Senate hearing, but across Capitol Hill the House of Representatives will be hosting its own #MeToo showdown.
Mel Watt, director of the Federal Housing Finance Agency, is set to testify to the House Financial Services Committee, his first appearance since it became public that he's under investigation for the alleged sexual harassment of a female subordinate. He's denied wrongdoing. His accuser, Simone Grimes, also plans to testify.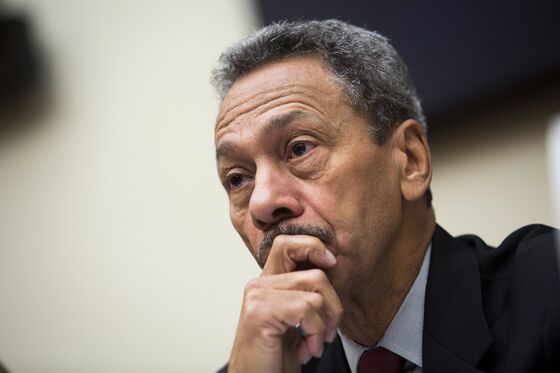 Politicians from both sides of the aisle have been reluctant to speak about Watt, a 73-year-old former Democratic congressman from North Carolina who has a big role in overseeing the $5 trillion U.S. mortgage market. The hearing will show how serious Congress is about addressing allegations of sexual misconduct and abuses of power -- particularly when it's politically inconvenient.
"This is something that hits close to home because this is a former colleague of ours who we've served with," said the panel's Republican chairman, Jeb Hensarling of Texas.
Grimes, a senior adviser at FHFA, alleged that Watt repeatedly made unwanted advances and denied her a promotion when she refused. She said she has audiotapes to prove more than 17 instances of harassment over a two-year period.
In one recording, heard by Bloomberg, Watt acknowledges that Grimes refused his advances in the past, "much to my disappointment."
"I'm guilty of having an attraction to you, that is true," Watt said in November 2016, with jazz music playing in the background, according to one recording. "What I've talked to you about up to this point has nothing to do with either your beauty or my feelings. But I can't eliminate the feelings or the beauty."
To hear more of the recording, click here.
The matter has raised questions about the powers of independent regulators like the FHFA, where top officials can only be fired by the president for cause. The FHFA supervises Fannie Mae and Freddie Mac, which own or guarantee most U.S. home loans, and has tremendous sway on everything from mortgage rates to who qualifies for a mortgage.
"We must face the reality that women throughout all sectors feel that existing practices and procedures have worked against them and left them silenced when they have complaints about discrimination and harassment," California Democrat Maxine Waters, the committee's ranking member, wrote in a letter to Hensarling. She has said previously that she awaits the results of the investigation.
Citing his status as a presidential appointee, Watt refused to work with an investigator from the U.S. Postal Service appointed to look into the accusations. The process for handling sexual harassment claims is designed to deal with rank-and-file employees, not agency heads, Watt told the investigator, according to the Post Office report.
Watt's term at the FHFA ends in January, and there's uncertainty over who can appoint an interim director should Watt step down. Some lawyers argue the Federal Vacancies Act directs the president to make the pick, but other experts, citing the FHFA's own rules, say Watt's replacement, if one is needed, would have to come from within the agency.
Lawmakers have mostly appeared hesitant to comment on the specific allegations against Watt, but in recent days more are vowing to be tough.
"The allegations against Mel Watt are of course deeply concerning and should be treated as such," said Gregory Meeks, a New York Democrat. "There should absolutely be a thorough and expeditious investigation to get all the facts, and actions should be taken accordingly."
Said a spokesman for another New York Democrat, Nydia Velazquez: "These allegations are profoundly disturbing and the congresswoman will have some tough questions at Thursday's hearing."
Others, however, aren't planning to address sexual harassment. Blaine Luetkemeyer, a Missouri Republican, said he plans to ask Watt about agency guidance. Spokesmen for more than a dozen other committee members didn't respond to requests for comment.
"We are extremely grateful for this opportunity and for the positive bipartisan response to our requests that Ms. Grimes testify," said Diane Seltzer Torre, Grimes's attorney.