Commonwealth Bank Unveils Record Buyback Amid Profit Jump
(Bloomberg) -- Commonwealth Bank of Australia shares climbed to a fresh all-time high after the lender unveiled a record A$6 billion ($4.4 billion) share buyback plan and boosted its dividend following a surge in earnings.
Australia's biggest bank said cash profit rose 20% to A$8.65 billion for the year to June 30, as the economic recovery gathered pace and bad-loan costs fell, according to a statement Wednesday. That narrowly topped the A$8.62 billion average estimate of six analysts surveyed by Bloomberg. The firm will buy back up to A$6 billion in an off-market buyback, and will pay A$6.2 billion in total dividends for the year that just ended.
The Sydney-based bank was the third of Australia's four biggest banks to detail capital management plans, delivering far more than its peers. Australia & New Zealand Banking Group Ltd. and National Australia Bank Ltd last month said they would buy back A$1.5 billion and A$2.5 billion of shares, respectively.
Australia's largest lenders, which have about A$30 billion of surplus capital, are starting to join their global peers in handing back payments to investors, after regulators eased constraints that were implemented to safeguard banks from a Covid-19 induced hit last year.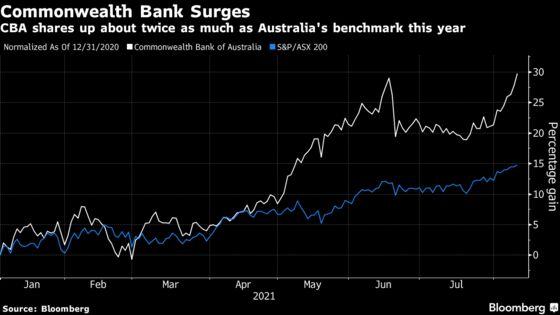 Chief Executive Officer Matt Comyn said that the pandemic continues to impact the economy and the bank is prepared for a range of different scenarios. "The ongoing roll-out of the vaccination program and government support packages will be important to help Australians and the economy on the path back towards full economic activity," he said in the statement.
Comyn also said that the bank expects "ongoing economic impacts and earnings pressure from lower interest rates."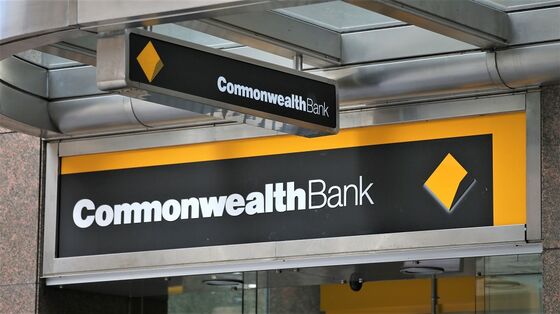 Full-year dividend climbs to A$3.50 per share
Home loans book grew by a third to A$141 billion, while household deposits rose 25%
Net interest margin (NIM) -- which compares the bank's funding costs and what it charges to lend -- fell 4 basis points to 2.03% as higher liquid assets and ongoing low interest rates stung the bank; NIM continues to face pressure from low benchmark rates, stronger competition on price, and the impact of customers switching to fixed rate home loans and higher rate deposits
Growth in home loans was 1.2 times the market, while business lending rose three times the broader market
The result reflects "an improving Australian economy since the peak of the pandemic," Daniel Yu, a senior analyst at Moody's Investors Service, said on Bloomberg TV. "Also supporting the result was very strong loan growth. CBA has consistently grown above market which is quite impressive considering it's the largest bank in Australia."
What Bloomberg Intelligence Says

"Commonwealth Bank's record distribution points to a solid capital position," said Matt Ingram, an analyst at Bloomberg Intelligence. Cash profit may be trickier to replicate, given that credit costs are well below the average of the last five years, he said.
CBA shares climbed 1.7% as of 10:04 a.m. in Sydney. The stock is up about 32% this year, compared with a 15% gain on the S&P/ASX 200 Index.
To read more on the results, click here.