Commerzbank Sees 2021 Profit in Boost for CEO's Turnaround
Commerzbank AG said it expects to make a profit this year in a boost for Chief Executive Officer Manfred Knof as he pushes ahead with his turnaround plan. 
German's second-largest listed bank issued the guidance after operating earnings in the third quarter nearly tripled and revenue slipped less-than-expected. Provisions for bad loans also continued to shrink in a sign of its improving prospects.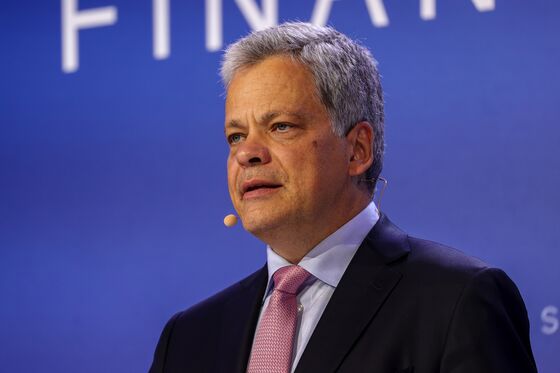 "The implementation of our strategy is proceeding according to plan and the operating business is also developing well," Knof said in a statement commenting on the bank's earnings on Thursday. "Despite the restructuring expenses, we are anticipating a positive net result for the full year." 
Commerzbank shares rose as much as 7%, taking the stock to its highest level since May 2019. The bank is up about 30% so far this year.
An annual profit would be an important achievement for Knof, who has vowed to boost returns at a lender that hasn't earned its cost of capital in over a decade. Last year, the bank also slumped to its first annual loss since 2009 as it booked large writedowns to clear the slate before Knof came in as CEO. 
The lender had previously shied away from giving a profit outlook. The uncertainty stemmed from concerns about whether cost headwinds would swamp revenue momentum and an improving outlook on loan repayments as the coronavirus pandemic subsides.
Knof, who took charge of the Frankfurt-based lender in January, is implementing a four-year turnaround strategy centered around deep savings, including eliminating 10,000 jobs. The effort has been complicated by unexpected costs such as a writedown on a scrapped IT project. The CEO has also faced an extended leadership upheaval, which was finally settled in September with the appointment of two new management-board members.
In a sign of improvement, third-quarter operating earnings rose to 472 million euros ($545 million) from 168 million euros. While revenue declined 1.3% to 2.01 billion euros, the drop was a little less than what was anticipated by the Bloomberg-compiled consensus estimate, which had seen a decrease to 1.99 billion euros.
Commerzbank now predicts revenue this year will "exceed" last year's level after previously only saying said it expects its top line to grow "slightly" in 2021. Revenue was up 3.3% through the first nine months of the year.
Commerzbank continued to upgrade its forecast for loan-loss provisions and said they will be below 700 million euros this year, an improvement on earlier guidance of about 800 million euros. 
The lender also lifted the outlook for its capital cushion, saying the year-end level of its common equity tier 1 ratio will be around 13.5%, compared with a previous forecast of about 13%.
Commerzbank is "absolutely on track" with its turnaround plan, Chief Financial Officer Bettina Orlopp said on Bloomberg TV. "Revenues have been very solid," she said, adding that costs are in plan and credit provisions are lower than anticipated.