Commerzbank Chairman Vetter Abruptly Resigns, Citing Health
(Bloomberg) -- Commerzbank AG Supervisory Board Chairman Hans-Joerg Vetter unexpectedly resigned, throwing the bank into renewed management turmoil as it prepares a major overhaul.
Vetter informed Chief Executive Officer Manfred Knof he plans to step down from the supervisory board for health reasons by the end of the day, according to a statement from the bank on Tuesday. Deputy Chairman Uwe Tschaege is taking over until a permanent successor is appointed.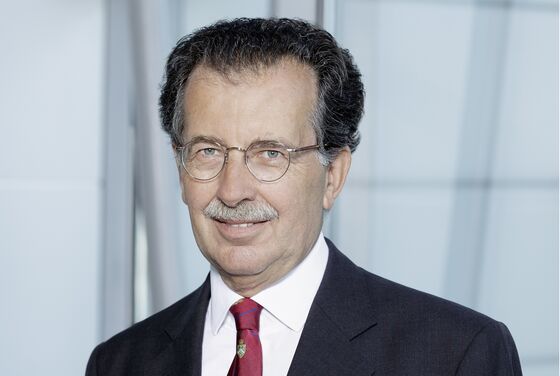 Vetter was appointed in August to end a leadership crisis that erupted when his predecessor, Stefan Schmittmann, and the CEO at the time, Martin Zielke, jointly resigned after shareholder pressure on strategy. Since taking over, Vetter and Knof have sought more radical solutions to the bank's woes, including a massive restructuring unveiled last month that will slash costs by eliminating a third of the lender's workforce.
The bank is seeking to find a successor quickly and is striving to do so before the annual general meeting on May 5, a person familiar with the matter said. Existing members of the supervisory board and external options may be considered, the person said asking not to be identified discussing the private information.
Commerzbank declined as much as 1.9% in Frankfurt and traded 1.6% lower as of 12:50p.m. local time.
Vetter's appointment was backed by the German government, Commerzbank's largest shareholder, in part based on his reputation for driving through difficult changes during previous jobs. Shareholders including Cerberus Capital Managament had been increasingly critical of the lender's low profitability and the previous management's track record of implementing cost cuts, though the U.S. firm has sought alternative chairman candidates.
Vetter had bought shares in Commerzbank only recently, indicating his confidence in the turnaround plan.