Commerzbank Boosts Outlook After Posting Surprise Profit
Commerzbank AG posted a surprise profit in the first three months and upgraded its full-year revenue outlook, providing support to Chief Executive Officer Manfred Knof after he unveiled a new turnaround strategy to boost profitability.
Revenue soared 35% in the first quarter after the bank joined peers in profiting from strong trading and investment banking conditions. That helped drive net income to 133 million euros ($161 million), compared with a forecast loss of 53 million euros. Full-year revenue should be slightly above that of 2020, compared with earlier estimates of a decline.
The earnings are the first overseen by Knof, who joined the lender in January and quickly presented a four-year turnaround plan centered around cutting about a fifth of its costs and a quarter of the domestic workforce. The bank benefited from an increase in net commission income in the quarter, while a 126 million-euro benefit from the European Central Bank's targeted longer-term loan program helped offset pressure on net interest income.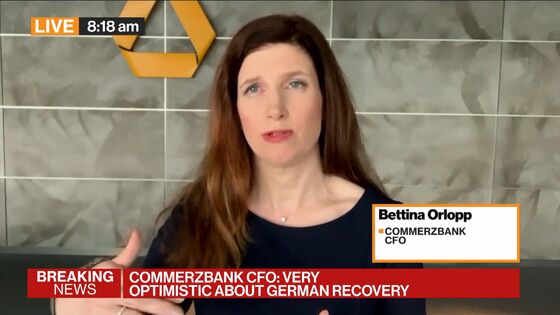 The bank for now is sticking with its guidance for a full-year loss, though the first-quarter performance has increased chances it may post a profit after all, Chief Financial Officer Bettina Orlopp said on a call with journalists. She will wait until after the second quarter before deciding whether to change the guidance, she said.
The results are "the first tangible signs of restructuring success," Bloomberg Intelligence analysts Philip Richards and Mar'Yana Vartsaba wrote in a note. That's "raising confidence in the credibility" of the bank's long-term profitability goal, they wrote. The lender is targeting a return on tangible equity of about 7% for 2024.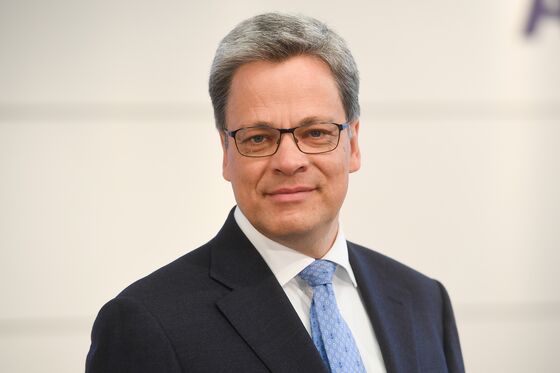 Commerzbank rose as much as 8.9% in Frankfurt trading and was 6.5% higher as of 12:10 p.m. local time.
While the beat is a boost for Knof, it also highlights the challenges for his strategy lying ahead. He has slated one of the best-performing units this quarter, the capital markets business, for cuts.
The strong showing of securities trading is also reminiscent of results at crosstown rival Deutsche Bank AG, which also boosted its full-year revenue outlook on the back of first-quarter results at its trading unit. The strong performance of the business throughout the second half of last year has led CEO Christian Sewing to pin higher expectations on it, while downgrading other units after a deep restructuring kicked off two years ago.
Costs for soured loans at Commerzbank fell more than half from a year earlier, and the bank said the annual total would likely be in the lower half of its expected range of 0.8 to 1.2 billion euros. It also lifted the full-year outlook for its capital buffer, known as the Common Equity Tier 1 ratio, to at least 12.5%, from more than 12%.
"We expect a further increase" of corporate defaults in Germany after they ticked up in the first quarter, Orlopp said in a Bloomberg TV interview with Matthew Miller on Wednesday. But she also said she's not expecting "real difficulties for our clients" and highlighted growing confidence in Germany's economic recovery.
Commerzbank last week increased the expected costs of the turnaround plan to slightly over 2 billion euros after an agreement with the lender's workers council on the job cuts was more expensive than previously anticipated. On Tuesday, the bank unveiled an agreement to outsource its equities trading and research to the French bank Oddo BHF as another element of its strategy.
As part of the agreement with Oddo, Commerzbank will stop producing its own institutional equity research "over the long term," it said. The arrangement could affect close to 100 jobs at the German lender, Bloomberg has reported.
The corporate clients unit under Michael Kotzbauer is set to shrink this year as Commerzbank pulls out of several countries and severs ties with clients not seen as lucrative enough. Instead, it will focus more strongly on its clients among Germany's middle-sized companies.