Comcast Knows What It Is. Investors Aren't So Sure.
(Bloomberg Opinion) -- Comcast Corp. shareholders no longer recognize the company they own. 
Over the weekend, Comcast made a jaw-dropping $40 billion bid for Sky Plc, topping an offer from 21st Century Fox Inc. and Walt Disney Co. It's the second intense bidding war this year that saw the U.S. cable giant go toe-to-toe with Disney, as rational financial analysis has taken a backseat to perceived strategic necessity. Comcast CEO Brian Roberts backed down from the acquisition of Fox's TV and film assets in July, leaving Disney as the winning bidder—just as Rupert Murdoch preferred. But Roberts decided Sky wasn't worth losing, and not everyone understands his motivations.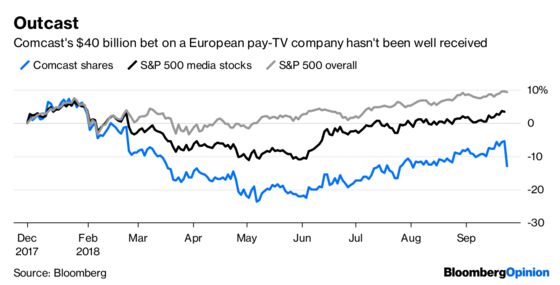 Until now, the more glamorous side of the media world has dominated merger activity. Legacy industry leaders have pursued popular TV networks and Hollywood studios such as Fox's own, the goal being that greater scale will help them combat Netflix Inc. and Amazon.com Inc. AT&T Inc. gained control of HBO and Warner Bros., while media mogul Shari Redstone has also sought to recombine CBS Corp. and Viacom Inc. (though a standstill agreement prevents her from doing so for now). AMC Networks Inc., the owner of "The Walking Dead" franchise, is shaping up to be another target.
Then comes Comcast desperately vying for a satellite-TV service, and in Europe no less. With everyone heading one way, it would seem Comcast has veered in a different direction. Worse, investors scarred by AT&T's poorly timed and overpriced takeover of satellite provider DirecTV in 2015 may see similarities here. AT&T has tried hard to shift the focus to DirecTV Now, the fast-growing streaming service that's grown out of the deal. But that certainly doesn't justify the $67 billion valuation it once placed on DirecTV, which has since bled hundreds of thousands of satellite subscribers. 
Comcast, too, will want investors to look past the fact that Sky, at its core, is like a European DirecTV. Craig Moffett, an analyst for MoffettNathanson LLC, put it best:
"Comcast would like to have investors view Sky as a platform-agnostic collection of proprietary programming agreements that can serve as a springboard to create a global over-the-top provider and, to be fair, the company does indeed have many proprietary programming agreements. But it seems as though they would like investors to forget that it is also a satellite TV provider."
Investors don't yet share Roberts's vision. The stock dropped about 8 percent on Monday morning, the biggest drag on the S&P 500 index. His extraordinary deal pursuits this year have overshadowed continued growth in internet-service signups. While it's no secret cable subscriptions are in decline, consumers switching to streaming apps still need a high-speed internet connection. Comcast has also lured 781,000 customers to its new wireless service as more video consumption takes place over mobile devices.
Still, investors liked the old Comcast—the one that had a lock on its cable-service territories and was O.K. being U.S.-centric, that was glitzy enough with its NBCUniversal division, that was the one to fear. The industry used to have to react to what Comcast was doing; now Comcast is being forced to respond to the new threats from tech giants. 
Sky does bring attractive offerings based around its technology, such as the user-friendly interface of its Q box and the new Now TV streaming service. But the question remains, is the potential growth enough to justify the price Comcast paid? History would tell us it rarely works out that way. 
This column does not necessarily reflect the opinion of the editorial board or Bloomberg LP and its owners.
Tara Lachapelle is a Bloomberg Opinion columnist covering deals, Berkshire Hathaway Inc., media and telecommunications. She previously wrote an M&A column for Bloomberg News.