Comcast Slides After Lockdown Dims Outlook for Parks, Movies
(Bloomberg) -- Comcast Corp. shares fell after the cable giant warned its theme parks and TV and film businesses would struggle because of the global pandemic.
On an earnings call, Comcast Chief Executive Officer Brian Roberts said those businesses will be "under substantial duress because we must shelter in place."
The shares fell 3.5% on Thursday in New York.
Last quarter, Comcast's film and theme-park revenue dropped 23% and 32%, respectively. U.S. theme parks and movie theaters have been closed since mid-March due to the coronavirus, prompting Comcast's Universal to delay certain films or release them for home viewing.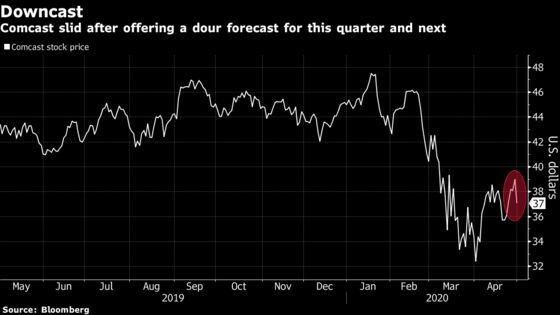 If the theme parks remain closed for the entire second quarter, Comcast would face a loss of about $500 million before interest, taxes, depreciation and amortization, Chief Financial Officer Mike Cavanagh said on the earnings call.
"All of our theme parks are closed and we do not know when they will reopen," he said.
Cavanagh said he expects film revenue and Ebitda to "decline substantially, particularly in the second and third quarters," as a result of moving two anticipated feature films, the ninth "Fast & Furious" installment and a "Minions" sequel, to 2021.
Meanwhile, NBCUniversal's advertising business is expected to "materially weaken" from the first quarter due partly to the postponement of sports, he said.
The weak outlook at NBCUniversal came despite Comcast's cable division adding its the most quarterly internet customers in 12 years, providing momentum to a business that's become critical during the home lockdowns caused by the pandemic.
The cable giant added 477,000 internet subscribers last quarter, topping analysts' expectations. Comcast reported quarterly profit of 71 cents a share, excluding certain items, more than the 67 cents that analysts expected. Total revenue of $26.6 billion was just shy of the $26.8 billion that Wall Street forecast.
Although more people are relying on home internet during the lockdowns, Comcast has been adding customers at a steady clip for months. That's partly because it has been more willing to sell broadband service as a stand-alone product, not bundled with TV and phone.
The company lost 409,000 cable-TV customers, as it has raised prices and stopped trying to retain people who want cheaper, less profitable packages. It was Comcast's steepest quarterly TV-subscriber loss in at least four years, according to historical data from Bloomberg Intelligence. Cavanagh said he expected a similar level of cable-TV subscriber losses in the second quarter.
Revenue at Comcast's European pay-TV business, Sky, fell 5.8%. One of Sky's markets, Italy, was hit hard by the coronavirus, and a big draw for its pay-TV service, live sports, has been postponed due to the pandemic.
Comcast said Sky customers have been pausing their sports subscriptions, which are sold separately from basic pay-TV service, since sports aren't being played. Cavanagh said "the impact on Sky due to the shutdown of sports is significant and unfortunate," adding that he expects the businesses to bounce back when sports matches return.