Comcast Won't Let $100 Billion in Debt Bring It Down
(Bloomberg Opinion) -- With Comcast Corp.'s 12-part, $27 billion jumbo bond offering on Tuesday to fund its acquisition of Sky Plc, the U.S. cable giant is on the path to joining a select group of companies with more than $100 billion of debt. But what's just as noteworthy is the club that Comcast chose to avoid.
Comcast will likely keep its A- and A3 credit grades from S&P Global Ratings and Moody's Investors Service, respectively, even after executing 2018's second-biggest U.S. corporate borrowing and the fourth largest of all time. That defies the growing trend of companies willingly pushing their ratings to the lowest rungs of investment grade as they finance acquisitions or buy back shares. The amount of debt rated BBB by S&P or Baa by Moody's has swelled to $3.4 trillion, data compiled by Bloomberg show. 
Many of these BBB rated U.S. companies are household names and leaders in their industry. The same goes for the $100 billion club, which, as Bloomberg News's Molly Smith detailed here, includes telecom providers AT&T Inc. and Verizon Communications Inc. Those two put in stark relief the relationship between huge debt loads and credit ratings: AT&T lost its single-A status in 2015 and was downgraded again in June, while Verizon fell into the BBB tier in 2013.
So what makes Comcast different? Commitment. Per Smith's reporting:
Comcast has said it's committed to maintaining its rating and wants to keep its debt to a manageable level relative to a measure of its earnings, in particular, at about 2.2 times its earnings before interest, tax, depreciation and amortization. If Comcast acquires all of Sky, the U.S. company's debt would rise to about 3.7 times Ebitda on a net adjusted basis.
Comcast officials can't just sit around and wait for this to happen, of course. According to Bloomberg Intelligence analyst Stephen Flynn, the company may only be able to cut its debt to target levels if it stops buying back shares and funnels all excess cash flow into debt payments for three or four years. 
That creates a fairly straightforward path. Based on a BI analysis, Comcast is poised to generate more than $13 billion of free cash flow in 2018 before paying $3 billion in dividends and its already planned $5 billion of share buybacks. Last year, it spent $2.9 billion on dividends and $5.4 billion on buybacks. With only a few bonds coming due in the coming years, it's easy to see how simply ending share repurchases would provide enough money to bring debt levels back in line with its peers.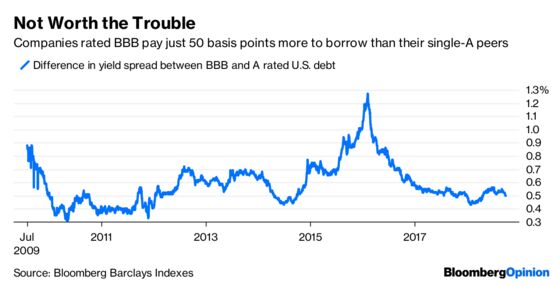 Still, sticking to a multiyear plan focused on keeping debt in check, when the U.S. economy is booming and interest rates are still historically low, has to be difficult. It's hard to fault other corporate leaders for not wanting to deal with the constraints of maintaining a slightly higher credit rating. The yield spread investors demand on BBB rated U.S. bonds is just 50 basis points more than those rated single-A, Bloomberg Barclays data show. Junk bond spreads hit a post-crisis low this week. The market is simply not punitive enough to make it worthwhile for companies to jump through hoops to appease credit rating companies.
It won't stay that way forever, and perhaps Comcast knows that. As I wrote back in June, Wall Street is already contemplating what might happen if BBB rated behemoths ever faced a day of reckoning. The idea of trillions of dollars of debt slipping below investment grade is sometimes cited as a trigger for the next crisis, if it ever came to fruition.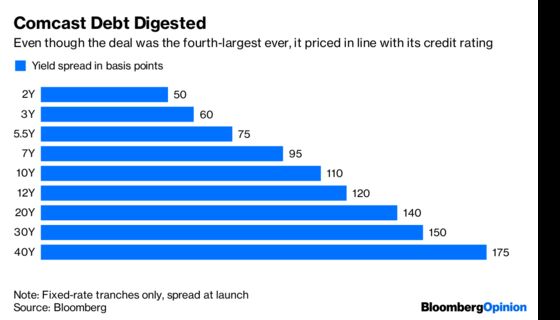 Comcast, meanwhile, is reaping the rewards of its fiscal prudence. The chunk of bonds it offered that mature from 10 to 30 years launched at levels largely in line with the average for single-A debt, Bloomberg data show. CreditSights analysts said in a note Tuesday that they "suggest investors participate in the new deal, as deals like this — large, high quality and a deleveraging story — do not come around often." 
They certainly don't. And investors swarmed, placing $88 billion of orders at the peak. Bloomberg News's Brian Smith called it "an unmitigated success."
Maybe keeping a stable credit rating matters after all.
This column does not necessarily reflect the opinion of the editorial board or Bloomberg LP and its owners.
Brian Chappatta is a Bloomberg Opinion columnist covering debt markets. He previously covered bonds for Bloomberg News. He is also a CFA charterholder.