Thriving in U.S., Comcast Pitches Investors on European Plans
(Bloomberg) -- Comcast Corp. has delighted investors by attracting millions of new internet customers in the U.S., even as demand wanes for cable-TV subscriptions.
But it's had a harder time getting shareholders excited about its $39 billion deal to buy Europe's Sky Plc. The acquisition will thrust Comcast into satellite TV -- technology that's becoming outdated in the video-streaming era -- and the high price the company paid to win a bidding war with 21st Century Fox Inc. has weighed on the stock. It's down more than 10 percent this year.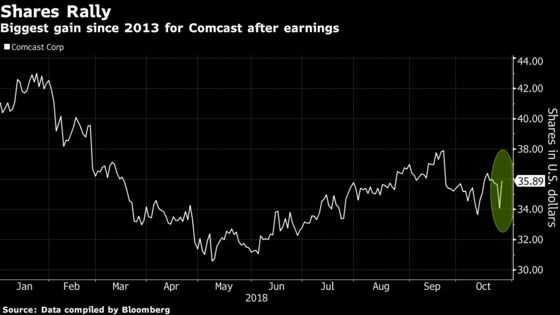 Management sought to change investors' attitudes on Thursday after reporting upbeat third-quarter results that lifted the stock to its biggest intraday gain in five years. Comcast spoke about the merits of the deal, which will roughly double its subscribers and provide a foothold in Europe, where cord-cutting isn't as widespread because the market is less penetrated.
"Sky is a great business with terrific organic growth ahead," Chief Executive Officer Brian Roberts said on an earnings call.
Comcast added 363,000 U.S. broadband customers in the third quarter, a 70 percent increase from a year earlier, the Philadelphia-based company said Thursday. That far exceeded the loss of 106,000 video subscribers, and eased investors' concerns that broadband is slowing. Comcast is now the biggest U.S. provider of gigabit speeds.
Yet the U.S. video losses are a reminder why Comcast is buying Sky. On the call, Roberts said the Sky deal has been misunderstood and he defended the price Comcast paid, saying the company, based in the U.K., had been undervalued by Wall Street.
While Sky's satellite-TV technology is "becoming less and less relevant" in the digital age, the company doesn't just aggregate TV programming but also creates its own, Roberts said.
Roberts was joined on the call by Sky Chief Jeremy Darroch, who highlighted the company's plans to sign new subscribers across Europe with both traditional pay TV and a new online video service. About 78 million homes in Sky's territory still don't get pay-TV service, Darroch said, citing growth prospects in Italy and Germany in particular.
He also said nearly all of Sky's sports-rights deals last until 2021, and that the company plans to create more original programming in case media giants like AT&T Inc.'s HBO and Walt Disney Co. pull back content to use on their own global streaming video services.
"That is a huge difference," Roberts said.