Comcast Shares Rise Most in Six Years as Broadband Fuels Growth
(Bloomberg) -- Comcast Corp. shares jumped the most in six years after the U.S. cable giant proved that its broadband business still has fuel in the tank.
The pay-TV provider's focus now is selling internet service as more people seek speedy connections to Netflix and everything else online. Whether the Philadelphia-based company can keep adding broadband subscribers has been one of Wall Street's biggest questions, especially as wireless companies start to threaten that business with super-fast 5G service.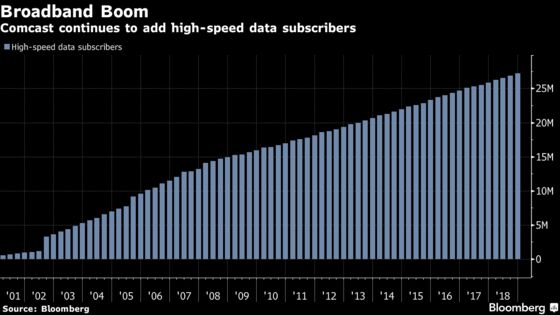 For now, Comcast is keeping keep those fears at bay. Last quarter, the company's high-speed internet service attracted 351,000 new customers, roughly in line with a year earlier and close to analysts' forecasts of 358,000. Comcast has been introducing faster service, hoping to attract enough new customers to make up for the continued decline in cable-TV subscribers from cord cutting. It also has started selling broadband as a stand-alone service and added new features to its home Wi-Fi.
About 80 percent of the country gets high-speed internet, and Comcast serves about 47 percent of the market, Dave Watson, president of the company's cable division, said Wednesday on a conference call.
"There's absolutely room for growth there," he said.
Shares of Comcast gained 4.1 percent to $36.39 at 12:05 p.m. in New York after being up as much as 7 percent, the biggest intraday advance in six years.
The broadband gains drove Comcast's better-than-expected fourth-quarter profit. While the company must pay to deliver cable and broadcast channels to its TV subscribers, broadband has no such programming costs, making it a higher-margin business.
The largest U.S. cable company reported fourth-quarter profit of 64 cents a share, excluding some items, surpassing analysts' estimates of 62 cents. Pro forma revenue, reflecting the $39 billion purchase of Europe's Sky Plc that closed in October, grew 5.2 percent, the company said.
Comcast's wireless business continues to lose money. It's lost $1.7 billion over the past two years on its way to signing 1.2 million subscribers, according to BTIG analyst Walter Piecyk. Comcast has said it will lose money until it reaches a certain number of phone subscribers.
But for now, Wall Street seems willing to overlook that investment as long as more people keep signing up for broadband, the company can contain its cable-TV customer losses and the dividend keeps rising.
Comcast lost 29,000 TV subscribers in the last quarter, which was slightly better than the 33,000 cable customers it shed a year ago and much better than the loss of 66,000 that analysts had projected.
Comcast also announced it will raise its annual dividend by 10 percent to 84 cents a share, a sign of confidence in its ability to boost free cash flow while paying down the substantial debt from the Sky purchase. The company's long-term debt stood at $107.3 billion at year's end.