Colombia Taps Local Green Bond Market Again to Meet ESG Demand
(Bloomberg) -- Colombia is selling green bonds again, a month after its debut domestic offering handily outperformed in the secondary market amid appetite for securities designed to help the environment.
The Andean nation will offer at least 650 billion pesos ($170 million) more of the 10-year notes on Oct. 27, Public Credit Director Cesar Arias said in an interview. Depending on demand, the government may sell as much as 975 billion pesos of the securities, which will fund renewable energy, water management, clean transport and efforts aimed at curbing climate change. 
Colombia is ahead of its Latin American peers when it comes to local green financing, becoming the first to tap growing international demand by selling the debt in domestic markets. While skepticism remains globally about just how effective such bonds are at incentivizing green behavior, the securities jumped after the sale and now yield almost 20 basis points less than equivalent conventional notes, widening the so-called greenium to about three times the level it was when they debuted. 
It was an easy call to issue more of the securities given the lower costs for the government and the appeal to foreign investors with a mandate to focus on environmental, social and governance issues, known as ESG, according to Arias. About 45% of Colombia's debut green sale went to overseas funds, much higher than the overall international ownership rate of 26%. The securities are also less volatile, broadening their appeal.
"Green bonds have three advantages: cost, resilience and diversification," Arias said.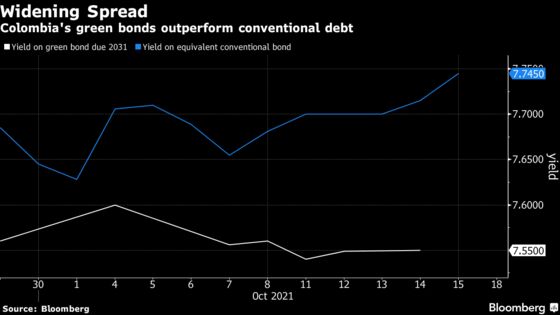 Developing nations such as Colombia are beginning to catch up to the issuance boom in debt designed to fund environmental efforts, a market that has been led by European countries including France, the U.K. and Germany. Governments from around the world have sold $67.5 billion in green bonds so far this year, already surpassing a total of $37.5 billion in all of 2020, according to data compiled by Bloomberg Intelligence.
As sales boom, some investors and analysts have raised questions about just how much the securities are making a difference in tackling issues such as pollution and climate change. Critics decry greenwashing, a term used to refer to companies or countries overstating the environmental benefits in order to tap the huge demand, lower borrowing costs and bolster their reputation.
In Colombia, which boasts the most biodiversity per square meter of any country in the world, the government says it has a framework in place to ensure that the funds will go toward green causes.
"Colombia is committed to sustainable growth and development," according to a presentation to investors.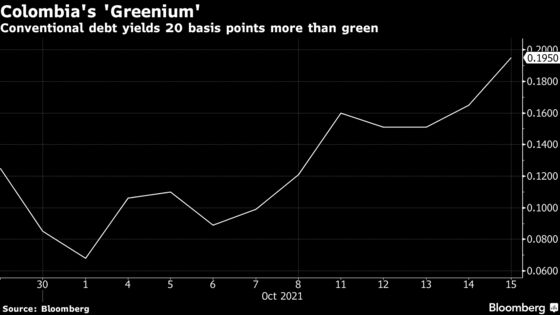 With this month's sale, Colombia will have completed plans to issue as much as 2 trillion pesos of green bonds this year. Next year's ESG bond offerings will happen in the second half, Arias said. 
In the meantime, the Finance Ministry will be identifying projects that meet the environmental credentials to be funded in the 2022 budget, he said. 
"We're completely focused on selling green bonds in the local market and in local currency," Arias said. "The idea of this first exercise was to get visibility and to strengthen the greenness of our fiscal policy."