Colombia's Richest Man Adds $3 Billion to Bank Fortune in Rally
(Bloomberg) -- Billionaire Luis Carlos Sarmiento Angulo's companies are poised to extend their rally after leading Colombian stocks in 2019, benefiting from strong consumer demand in one of Latin America's fastest growing economies.
Shares in the companies that make up Sarmiento's financial conglomerate were the top performers in the country's benchmark Colcap index, led by Corporacion Financiera Colombiana SA, an investment company known as Corficolombiana, which posted an eye-popping return of more than 100%. Banco de Bogota and the parent company Grupo Aval didn't fare poorly, with returns of around 60% and 40%, well ahead of the Colcap's 26% gain.
The stock rally has boosted Sarmiento Angulo's net worth by about $3 billion, according to the Bloomberg Billionaires Index. The 86-year-old Grupo Aval founder is the richest person in Colombia, worth an estimated $12.2 billion, and the nation's second-wealthiest citizen after Alejandro Santo Domingo.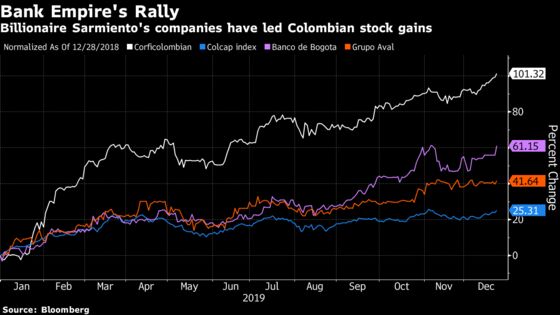 The performance marked a dramatic turnaround from a year earlier when investors punished the shares following a string of bad news, including an announcement that the U.S. Department of Justice had opened an investigation into a scandal-plagued highway in which Corficolombiana was a minority investor. Although the probe is ongoing, investors have been attracted by solid financial results the companies have put up, said Carlos Enrique Rodriguez, director of equity research at Bogota-based brokerage Ultraserfinco SA.
"The consumer-driven economy is going to continue and you'll see a similar performance, with double-digit growth in net income," said Rodriguez, who called financial stocks among his top picks for 2020. "The fundamentals are pretty sound for these companies."