Colombia's Bond Risk Tops Brazil as Protests, Politics Take Toll
(Bloomberg) -- Colombia's reputation as one of the surest bets in Latin America is being called into question by bond investors.
Yields on the Andean nation's notes are now higher than equivalent securities from lower-rated Brazil for only the second time since 2008, according to indexes compiled by JPMorgan Chase & Co. The cost of insuring Colombian debt against default also has spiked after the government's failed attempt to raise taxes sparked weeks of sometimes violent protests, prompted the finance minister to resign and upended budget forecasts.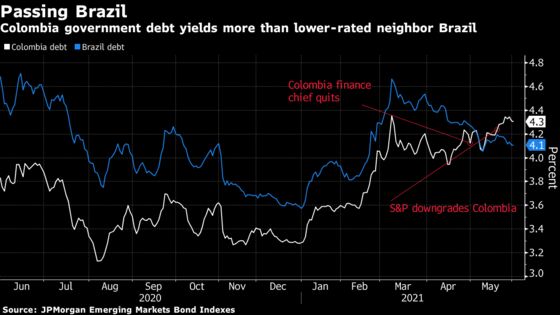 That's surprising because Colombia has often been seen as a relative haven in a tumultuous region, while Brazil was viewed as the more volatile and less dependable peer. Now, traders are bracing to see whether Fitch Ratings or Moody's Investors Service chooses to downgrade the nation after S&P Global Ratings last month cut its score to junk. They're also growing apprehensive about next year's presidential vote, with the leftist front-runner, Gustavo Petro, generally considered to be unfriendly to business.
"Investors are requiring higher risk premium for the escalating social conflict in Colombia and the possible sizable change in economic policy stance that could take place if a radical candidate won the 2022 presidential election," said Alejo Czerwonko, UBS Wealth Management's emerging markets chief investment officer for the Americas. "Brazil's social backdrop looks much calmer by comparison."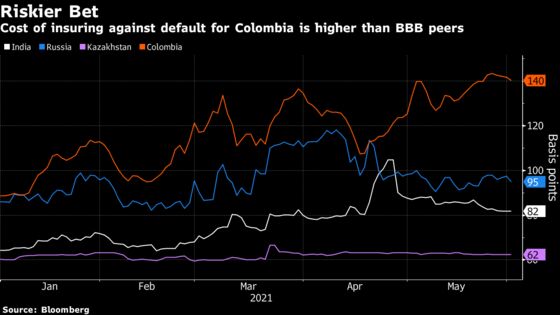 Brazil's bonds, rated three steps below investment grade by S&P at BB-, are rallying after a rough start to the year amid a surge in Covid-19 infections. The larger country is benefiting from surging prices for its agricultural and mining exports, faster-than-estimated economic growth and efforts underway in Congress to shore up government finances. The extra compensation investors demand to own the country's bonds instead of Treasuries fell to a 14-month low last month.
Colombia's pandemic spending and a drop in tax revenue have pushed forecasts for its budget deficit to a record 8.6% of gross domestic product. Still, the country is rated just one step below investment grade by S&P and hasn't defaulted since the Great Depression. Its politics have been market friendly in a region where governments often oscillate between populists and technocrats.
Political risk is creeping higher, though, with Petro leading in the polls ahead of next May's first presidential election round. Credit default swaps, used to hedge bond losses, have soared, with five-year contracts at their highest levels since late last year.
"We have to read into what the market is telling us: Colombia is becoming more risky," said Danny Dayan, a money manager at Galapagos Capital Investment in Sao Paulo. "A huge part of the risk is political."