Colombia Holds Key Rate as IMF Sees Growth Outpacing Peers
Colombia left its benchmark interest rate unchanged as faster growth and core inflation deter policy makers from joining other emerging markets in increasing stimulus.
The board voted unanimously to hold the policy rate at 4.25% for a 21st month, central bank governor Juan Jose Echavarria said after the meeting. The decision was forecast by 25 out of 26 analysts surveyed by Bloomberg, with one expecting a hike.
The bank forecasts that the economy will grow 3.3% this year, from an estimated 3.2% last year, Echavarria said.
The International Monetary Fund said this week that it expects the Colombian economy to outpace Mexico, Brazil, Chile and Peru this year, boosted by easy monetary policy, migration from Venezuela and tax breaks for companies.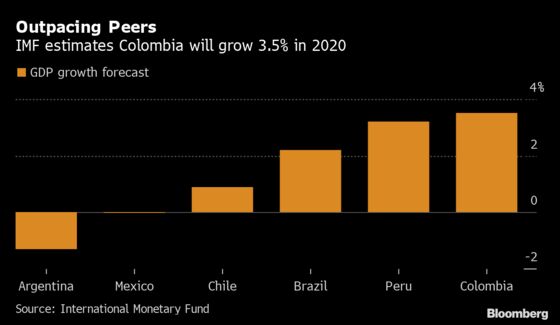 The peso has weakened 4% this year, amid the emerging market selloff triggered by the coronavirus outbreak in China. That, combined with the minimum wage increase of 6% which took effect this month may increase inflationary pressures in the coming months.
Colombia Central Bank to Modify Output Gap Estimate: Echavarria
Consumer prices rose 3.8% last year, near the upper end of the central bank's 2% to 4% target range. So-called "core" inflation, which excludes the most volatile prices, has been accelerating in recent months.
Analysts surveyed by the central bank forecast that the policy makers' next move will be to raise borrowing costs in October.
Arturo Jose Galindo, who joined the board last month, didn't take part in today's policy meeting.