Cold Feet on Credit Prompts Soul-Searching at Sweden's EQT
Swedish investment firm EQT's decision to review its credit division threatens the future of its fledging CLO business and bucks a trend showing a surge of new entrants in the booming market.
Last year EQT laid out plans to issue collateralized loan obligations -- leveraged loans bundled into bonds -- as part of its goal to expand its debt business. It had even opened a warehouse, which holds the assets for a planned CLO as it builds up to size, with arranger Barclays Plc for a potential first deal, according to people familiar with the situation who asked not to be identified by name because the information isn't public..
But in a call on Thursday, Caspar Callerstrom, EQT's Chief Operating Officer, questioned whether the company should be in the CLO trade at all. "It's actually a pretty good business," he said. "But is it our business?"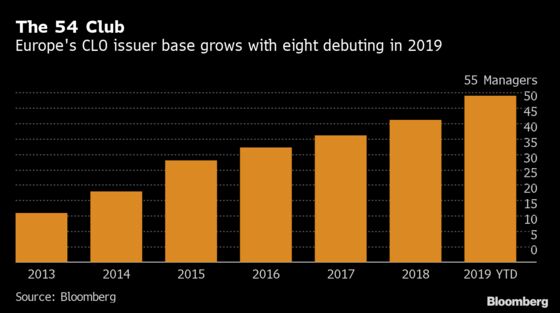 EQT's parent company EQT AB listed on the stock exchange last year, a step that obliged it to make public significant decisions such as the strategic review.
Analysts keen to understand why the firm appears to be reconsidering its approach to its credit business just four months after its initial public offering were left scratching their heads. Callerstrom offered few clues, but denied that it had anything to do with changes in prices. Instead he pointed to the fact growth prospects in the credit business were further away from EQT's core strategy.
The company was founded in 2008 and is the credit arm of EQT Partners. The business has 3.9 billion euros ($4.3 billion) in assets under management at year-end, which is roughly 10% of the firm's total and around 6% of its revenues, Callerstrom said. The bulk of those assets are in direct lending and distressed debt.
Read More: Europe's CLO Issuer Base More Than Triples In Past Six Years
Despite stressing the need for the company to concentrate its efforts, the EQT executive said that it's "business as usual" for the credit division until a decision has been made. He also pointed out the company is already using its own balance sheet to find its CLO expansion. The review will be concluded before the end of the summer, he added.
But the announcement will make it harder for the private markets specialist to operate as normal. Prospective investors say they need to know what the future of the business holds if they are to consider investing in a new CLO transaction.
EQT is not the only firm to set up a new business offering CLOs, with the European issuer base rising from 16 in 2013 to over 50 last year. The proliferation of managers has led some investors to question whether there might be consolidation within the sector if newcomers fail to raise enough deals to fund the platform.
EQT Starts Review of Strategic Options for Credit Segment
EQT Review of Credit to Be Concluded Before Summer, COO Says
EQT Credit Hires Cairn's Murphy to Head Senior Debt Strategy