Coke Offers Campbell Soup a Lesson in Relevancy
(Bloomberg Opinion) -- Call it a Zero Sugar high.
Coca-Cola Co. reported Tuesday that its organic sales, a measure that excludes factors such as divestitures, rose 6 percent over a year earlier in the latest quarter. One of the standout sellers was Coca-Cola Zero Sugar, which recorded double-digit volume growth. The soda division also got a boost from robust sales of low- or no-calorie Sprite and Fanta products.
This is just the kind of progress that CEO James Quincey needed to show, and offers validation for his big push around innovation. It also gives investors reason to keep trusting him as the company embarks on the major challenge of integrating its new $5.1 billion prize, Costa Coffee.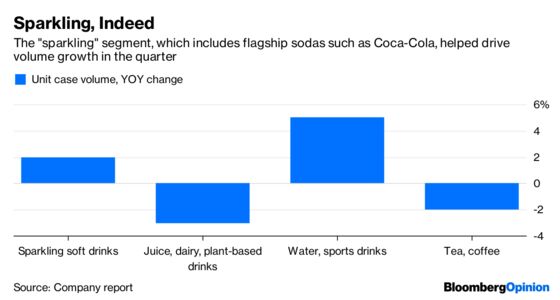 When Quincey became CEO in May 2017, he aimed to foster a culture of experimentation and the company went into overdrive on this front, reportedly debuting over 500 new items last year alone. While Coke Zero Sugar hit shelves in the U.S. in August 2017 and no doubt was in the works before Quincey took over the top job, consumers' embrace of the drink shows it pays for Coke to shake things up — be it on packaging, marketing or product.
It also serves as a reminder that, despite changing attitudes about soda, Coke doesn't necessarily have to become a completely different company to survive. Yes, it can and should continue to build its offerings of bottled waters, teas and coffees. The soda market overall will continue to be challenged as consumers drink less of it and as certain jurisdictions slap such drinks with taxes. But Coke can make quite a bit of headway simply by innovating in categories where its brand is already extremely powerful. Its unit volumes in its sparkling soft drink division were up 2 percent over a year earlier in the quarter.
Now was a good time to offer investors reasons to have faith in Coke's core business. The beverage giant agreed in August to acquire British coffee chain Costa. As my colleague Brooke Sutherland and I wrote at the time, it's not an illogical move, but it is a risky one, given that it didn't come cheap and that running 4,000 retail stores isn't exactly what the Coke empire does best. By delivering solid organic sales growth, Coke might find it gets a longer leash from investors to get Costa right.
Looking at the recent performance of Coke, I can't help but contrast it with an admittedly smaller but also iconic packaged food company, Campbell Soup Co.
The challenge of adapting to consumers' evolving eating habits has rocked the soup company to its core. As it grapples with waning sales, it has parted ways with a longtime CEO and is looking to sell its fresh division. Tuesday morning, activist investor Third Point released a presentation that suggests even more ideas should be on the table, including perhaps splitting Campbell into a grocery business and a snack business.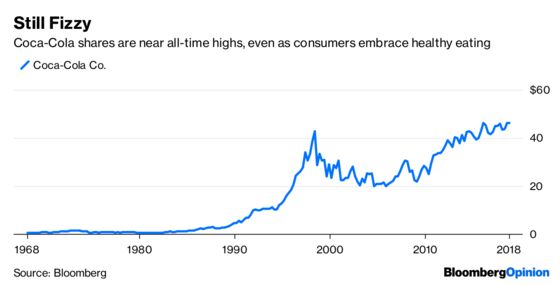 Meanwhile, Coke is faring reasonably well while grappling with similarly existential change. Its shares on Tuesday aren't far off the all-time highs they hit earlier this year. None of the analysts tracked by Bloomberg have a sell rating on the stock. It should be a reminder that the mere fact of being in a challenged industry like packaged food or sugary drinks doesn't make weak results a foregone conclusion.
This column does not necessarily reflect the opinion of the editorial board or Bloomberg LP and its owners.
Sarah Halzack is a Bloomberg Opinion columnist covering the consumer and retail industries. She was previously a national retail reporter for the Washington Post.