Coinbase Confounds Crypto Bulls After Results Miss Forecasts
(Bloomberg) -- Coinbase Global Inc. is making it difficult for advocates to remain focused on longer-term prospects after the largest U.S. cryptocurrency exchange presented a mixed message for a second consecutive quarter. 
Share of Coinbase slumped 8% from a record high reached Tuesday. The decline was the largest one-day drop since the digital-asset exchange began trading as a public security in April. 
While a third-quarter revenue miss has spooked investors, some analysts believe it could be just a bump in the road amid increasing global adoption of Bitcoin and other digital assets. Coinbase cited lower market turbulence and lower coin prices during the early portion of the third quarter. It forecast a recovery in trading during the current or fourth quarter. 
"The overall outlook for the crypto-ecosystem is getting better, which greatly benefits Coinbase," said JPMorgan analyst Kenneth Worthington. "We continue to see Coinbase execute on its strategies to become the ultimate financial service provider for the crypto-economy."
Read more: Coinbase Sinks as Analysts Say Results Fell Short: Street Wrap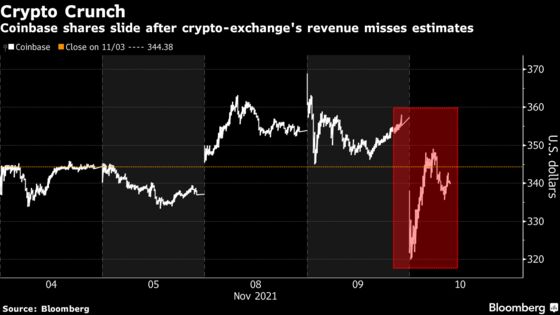 In spite of Wednesday's decline, Coinbase remains about 35% above its $250 direct listing price from April. After seeing an initial pop higher in its first few days of trading, the stock's advance stalled during much of the summer as Bitcoin prices languished. But the shares have rebounded over the last month as Bitcoin climbed to a record high and after the firm added the popular Shiba Inu meme token to its offerings.
"Shibu Inu is driving outsized retail interest so far this quarter so blended take rates should recover," wrote D.A. Davidson analyst Christopher Brendler. He added that Wednesday's selloff is a buying opportunity for investors.