Coinbase Outlook Disappoints After Results Surge
(Bloomberg) -- Coinbase Global Inc. shares were little changed in extended trading after the largest U.S. cryptocurrency exchange noted that customer usage slowed at the start of the current quarter.
The warning came while the company said second-quarter profit jumped to $1.6 billion from $32 million a year earlier. Revenue climbed to $2 billion from $178 million. Analysts polled by Bloomberg expected earnings of $683.3 million and $1.88 billion in revenue.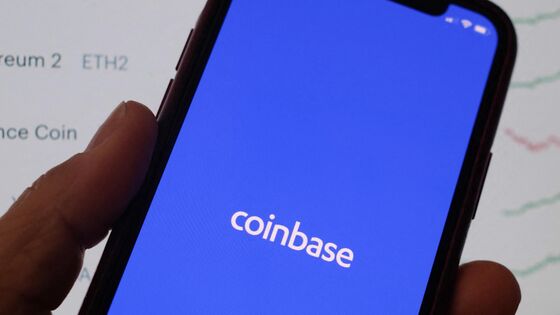 "It's going to be bumpy," Coinbase President and Chief Operating Officer Emilie Choi said in an interview on Bloomberg TV. "And that's actually the way that we built the business. We're used to the volatility. We embrace the volatility."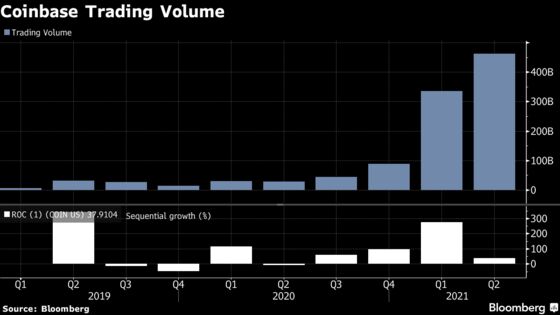 Coinbase, which doesn't provide forward financial guidance, said it expects lower monthly transacting users and lower trading volume in the third quarter. The company still boosted its full-year 2021 average monthly transacting users estimates versus prior guidance.
What Bloomberg Intelligence's Julie Chariell says:
Coinbase's better-than-expected 2Q results are shadowed by a 3Q slump in users, which should be expected after the selloff in Bitcoin and other crypto assets since mid-April highs. Monthly transacting users of 6-7 million in 3Q-to-date imply 2021 revenue closer to $5 billion vs. consensus' $6.1 billion, but shares could still maintain value given peer multiples. Importantly, institutional volume rose to 69% of the total, from 64% in 1Q, indicating less reliance on more-volatile retail trading.
Total trading volume grew nearly 38% sequentially in the second quarter, even as Bitcoin dropped from its all-time high. Institutional trading volume rose 47% sequentially, while retail trading volume rose 21%. Retail investors pay higher fees than institutional traders, and accounted for nearly 95% of Coinbase's transaction revenue in the quarter.
Shares of Coinbase fluctuated around $273 in extended trading. The stock is down about 20% from is closing price of $328 on its first day of trading on the Nasdaq back in April.