Coffee Posts Weekly Advance Following Brazilian Weather Woes
Arabica-coffee futures posted a weekly gain on escalating concerns that yields will slump following a drought in Brazil, the world's top producer and exporter.
Output may drop as much as 34% in 2021 crop woes in Minas Gerais, Brazil's biggest state grower, according to Ecom Trading, one of the biggest coffee traders. The estimate was close to a projection by Volcafe, an ED&F Man unit. Adverse weather also eroded prospects for beans in Central America and Vietnam. U.S. green-coffee inventory data is due next week.
"The big question now is whether consumption has dropped or has just moved from cafeterias to homes" during the coronavirus pandemic, Luiz Eduardo de Paula, owner of H. Commcor Ltd., a broker in Sao Paulo, said in an email.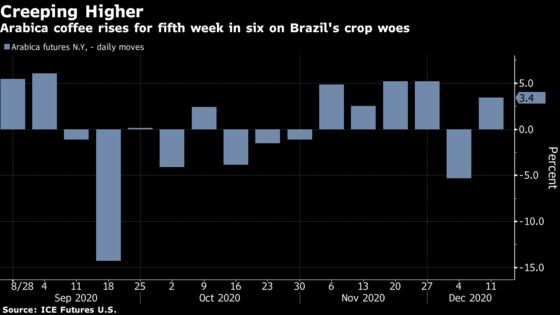 Arabica coffee for March delivery advanced 0.5% to close at $1.216 a pound on ICE Futures in N.Y. after reaching $1.2355, the highest for a most-active contract since Dec. 1.
This week, the price climbed 3.4%.
Drivers
Arabica Coffee Stockpiles Held in Ports Rose 9,819 Bags: ICE
Hedge Funds Cut Net Bullish Robusta Coffee Bets to 4-Week Low
BRAZIL CROP WEATHER: Coffee Regions Get Rain Relief
Guatemala Crop Damage From Hurricanes Seen at $4.3m: USDA FAS