Cocoa, Coffee Pace Weekly Declines on Signs of Ample Inventory
Soft commodities posted weekly declines, paced by cocoa and coffee, as investors weighted stunted demand in the U.S. and Europe against prospects for a 2021 recovery amid optimism for a coronavirus vaccine.
Arabica-coffee inventory monitored by ICE Futures U.S. headed for the biggest weekly gain in since 2012. Cocoa stockpiles tallied by the exchange are above year-earlier levels even after a steady decline since May.
The U.S. posted another day of record Covid-19 infections and deaths as overburdened hospitals braced for a surge in cases after Thanksgiving. Countries across Europe are pushing ahead with fast-track Covid-19 vaccine programs.
A gauge of spot raw-material prices dropped this week after postings gains throughout November. Coffee and raw sugar gained last month, partly on weather concerns in Brazil, the world's top producer and exporter, while the cocoa market was roiled by a pricing spat between the two largest producers and some chocolate makers. On Friday, softs mostly shrugged off a U.S. equity rally to a record and a rebound in crude oil.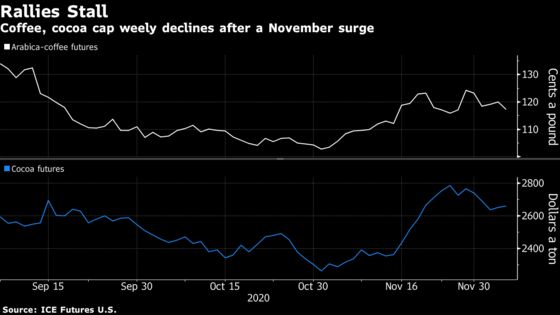 For cocoa, "given the market's sizable gains over the past month, a negative shift in global risk sentiment could lead to another wave of long liquidation selling," the Chicago-based Hightower Report.
On ICE in New York, cocoa futures for March delivery climbed 0.1% to settle at $2,654 a metric ton after trading lower for most of the session. This week, the price tumbled 4%. Last month, the commodity jumped 19%, the most since April 2008.
Arabica-coffee futures for March delivery dropped 2.8% to $1.1755 a pound, capping a 5.4% weekly decline. Last month, the price soared 18%, the most since July.
Raw-sugar futures for March delivery dropped 1.8% to 14.44 cents a pound. The price dropped 2.6% this week. The raw material rose in November to cap the seventh straight monthly gain, the longest rally since January 2006.
Cotton rose on Friday, paring the weekly decline. Orange juice dropped 3.7% in the week, the most since late September.
Drivers
Angry India Farmers Are 'Ready to Die' in Showdown With Modi
Exiled Ivory Coast Ex-President Gbagbo Plans December Return
Tons of Cocoa Beans Pile Up in Nigeria's Ports: Supply Lines
Creditors Take 80%

Haircut

in Rescue of Brazil Coffee Exporter
Italy's Illycaffe Targets Retail Coffee Market in U.S. Expansion
China's 2020-21 Cotton Imports Seen Rising 29%, USDA FAS Says
Mexico 2020-21 Cotton Output Seen Tumbling 37%, USDA FAS Says
Funds Boost Net Bullish London Cocoa Bets to Eight-Week High
Net Bullish Robusta-Coffee Bets Rise to Two-Month High
Funds Cut Net Bullish White Sugar Bets to Three-Week Low