Banks Don't Want to Lend to Australia's Coal Miners Any More
(Bloomberg) -- Financing options open to Australia's coal operators dwindled further after another of the country's largest banks said it would end almost all investment in thermal mines and power stations by 2030.
The move by Australia and New Zealand Banking Group Ltd. will add to the increasing difficulty miners face in funding new operations or expanding their existing assets in the nation, the world's second-biggest exporter of thermal coal.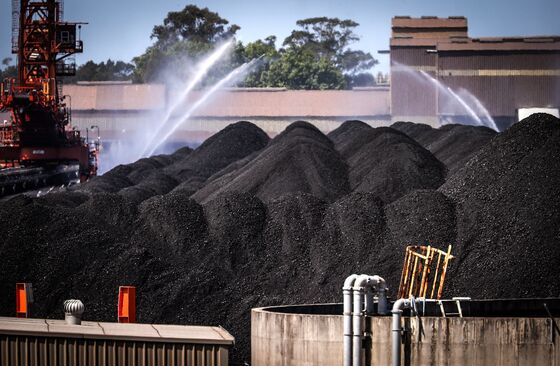 Financial institutions across the globe are bowing to pressure from shareholders and lobby groups to avoid investments in the fuel. Meanwhile, Australia's mining lobby forecasts a booming market, on Tuesday saying that it expects Asian demand to rise 35% over the next decade.
As of now, ANZ will not take on any new business customers with thermal coal exposure amounting to more than 10% of total revenue, and will work with existing clients which have over 50% exposure to support their diversification plans, the bank said in its 2020 climate statement published Thursday. It will also limit financing in power generation to natural gas and renewable projects by 2030.
"There is no question that people deploying capital, be it in equity or debt, are looking for companies to be more carbon focused, around how you're moving to reduce that carbon footprint," said Mark Whelan, ANZ Group Executive, Institutional, in a phone interview. The bank's direct exposure to thermal coal mines and coal power generation had already been reduced to 0.1% of the portfolio, or around A$500 million, he said.
Thermal coal remains an important export for Australia, generating A$20 billion ($14 billion) of revenue in the year to June. ANZ is the last of Australia's big four banks to set a date for exiting direct thermal coal investments, after Westpac Banking Corp. and Commonwealth Bank of Australia said they plan to be out by 2030 and National Australia Bank Ltd. targeted a 2035 exit.
Meanwhile, Japanese banks, among the world's biggest lenders to coal power developers, are paring back their exposure, leaving the industry to turn elsewhere in search of funding.
The pro-fossil fuels government said that it was disappointed with ANZ's move to restrict its lending to the coal sector.
"At a time when the rest of Australia is focused on economic recovery and getting back to work, it is extraordinary that ANZ's priority is to play environmental activist," Resources Minister Keith Pitt said in a media statement. "It is singling out industry sectors that continue to make a significant contribution to Australia's economy -- and ANZ's wealth."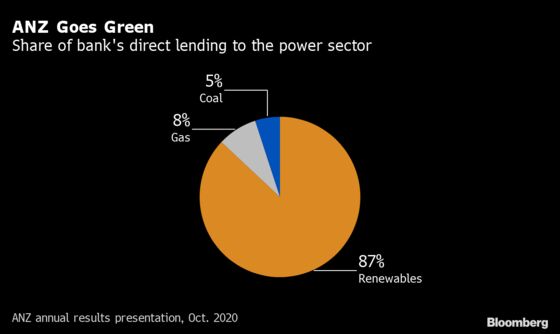 ANZ did not make any commitment to reduce its involvement in metallurgical coal, an even more valuable export for Australia, with Whelan saying that alternative feedstocks for steel-making were not yet commercially viable. The bank said it would support the transition to a net zero emissions economy by providing at least A$50 billion in funding by 2025 to customers to help finance carbon reduction efforts and that it would source 100% of its own power from renewable sources by the same date.
Climate activist group Market Forces said ANZ's new policy was "underwhelming". While it brought the bank into line with its peers on thermal coal, there was no clear plan to scale back ANZ's exposure to the oil and gas sector consistent with Paris Agreement climate goals.
"ANZ's 'diversification strategy' serves as a reward to companies expanding the fossil fuel industry as it gives the most climate-destructive coal companies another five years to formulate transition plans, while not even touching oil and gas companies," the group said in a media release.