Coach Owner Is Stockpiling Handbags to Prepare for Holidays
(Bloomberg) -- The owner of the Coach and Kate Spade brands is stockpiling its handbags and other accessories ahead of the holiday season to ensure it can meet consumer demand amid ongoing delays in the delivery of products from suppliers. 
"We find ourselves in a dynamic where the consumer demand backdrop is strong, while supply chain remains challenging," Scott Roe, the chief financial officer of Tapestry Inc., told analysts Thursday on a conference call to discuss quarterly earnings. The retailer, which also owns Stuart Weitzman, is working on "securing significant expedited deliveries, at an additional cost, in order to mitigate the impact of supply chain disruptions, at least through the holiday period."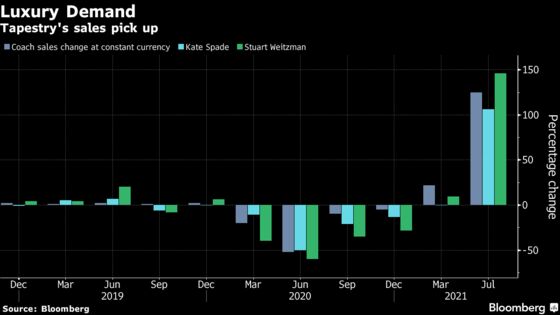 The Covid-19 pandemic has scrambled the global supply of materials and products, fueling inflation and making it hard for retailers and other companies to swiftly meet demand. While renewed outbreaks due to the more contagious delta variant have shaken consumer confidence, shoppers still remain eager to spend what they've saved during lockdowns and months of restrictions. 
Roe told analysts and investors to expect somewhat higher levels of inventory starting in the first quarter intended "to keep the momentum of the business." The higher cost of shipping those products by air will push up costs, but Tapestry's broader strategy of raising prices while limiting discounts will help to offset the increase, he said. 
Too much stockpiling can be a warning sign to investors that a company isn't selling its products. Roe said he wasn't concerned about the expected increase in inventory. "If we could get more, we probably would."
Todd Kahn, Coach's chief executive officer, said he's not worried about how long it will take to sell through the inventory since the brand's handbags have timeless styles.
"What is typical in this industry is a very narrow window to sell," he said in an interview. That "is not necessarily the case for us." Around 40% of Coach handbags are made in Vietnam, Kahn said. 
The retail industry got a jolt early Thursday after a report that Amazon.com Inc. is planning to open several locations that would compete with department stores. Tapestry CEO Joanne Crevoiserat said the possible move "is not surprising" because companies are increasingly seeking to sell seamlessly online and in-person. 
Tapestry's brands have been focused in recent years on decreasing their presence at department stores, known as wholesale, Crevoiserat said. That reticence could be a sign that higher-end labels may opt to distance themselves from Amazon's new project, which was reported earlier by The Wall Street Journal.
"We have a direct-to-consumer model that we value very much," she said in an interview. "That gives us access to a lot of data and an understanding of the consumer that really makes us better as a brand." 
Tapestry shares fell 2.9% at 12:30 p.m. in New York. The stock gained 33% this year through Wednesday, outpacing the S&P 500 as demand for handbags and other high-end goods rebounded from last year.
Tapestry on Thursday posted fourth-quarter net sales of $1.62 billion for the period ended July 3. That narrowly outpaced the $1.55 billion average of analysts' estimates compiled by Bloomberg. Earnings per share jumped to 74 cents, the company said, also above analysts' projections.
The results show how the economic recovery in the U.S. is helping to bolster sales at Tapestry's three fashion brands. The company reported about 165% year-over-year revenue growth in North America, a region where it generates more than half of its sales. Revenue also jumped 60% in mainland China, another large market for high-end brands.
Tapestry reinstated its dividend and buyback program, promising to return more than $750 million to shareholders in the fiscal 2022 year. The company declared a dividend of 25 cents a share payable on Sept. 27 and said it intends to increase its payout at a faster rate than earnings growth.
Tapestry said it expects revenue of approximately $6.4 billion in fiscal 2022, excluding some anticipated charges. That would mark a record level of sales for Tapestry, the company said, on a 52-week basis.