CNN Evacuation Sets News Media on Edge Amid Wave of Bomb Threats
(Bloomberg) -- U.S. news media stepped up security measures on Wednesday after a suspected pipe bomb was found at CNN's New York offices, the latest in a string of incidents this week that also targeted Barack Obama, Hillary Clinton and George Soros.
The device was found in the news organization's mailroom and the offices were evacuated as a precaution, CNN President Jeff Zucker said in a memo to staff. The network, which is owned by AT&T Inc., has offices and studios in the Time Warner Center in Manhattan, near Columbus Circle.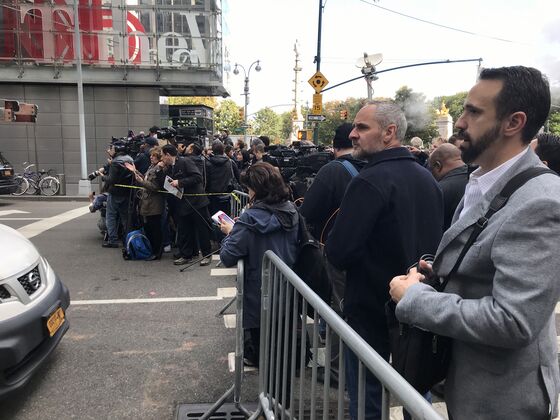 The San Diego Union-Tribune, that city's largest newspaper, also was evacuated on Wednesday after police spotted suspicious-looking packages in front of the building. A hazardous-materials team was dispatched to the site, but it was a false alarm, the paper reported.
The New York Times, based in midtown Manhattan, is taking additional security precautions, the company said in a memo.
"All incoming mail, including United States Postal Service, FedEx and UPS, in New York and in the Washington bureau, is sent through an X-ray machine before it is delivered," the Times said. "The mail delivery in New York today is complete and there were no suspicious packages detected."
The CNN package contained an explosive device and white powder, New York officials said at a press conference Wednesday. The package was addressed to CNN commentator and former CIA Director John Brennan, the network reported, citing city and local law enforcement officials. Brennan has sparred with President Donald Trump, who revoked his security clearance in August, accusing him of "erratic conduct and behavior."
"We are working with authorities to determine the severity of the situation," Zucker said. "The NYPD is on scene, and we are working closely with them to take every precaution. We are also checking all bureaus around the world, out of a complete abundance of caution."
As the device was removed from the Time Warner Center, police advised residents in the area to shelter in place.
At the press conference, New York Mayor Bill de Blasio said police will increase their presence at news outlets across the city. He also urged people not to encourage attacks against the media.
The Washington Post, a frequent target of Trump criticism, is "carefully monitoring today's events and will take any necessary actions to ensure our staff is safe," a representative said.
Also on Wednesday, the Secret Service said it intercepted potential explosive devices addressed to former President Obama and presidential candidate Clinton. It opened a criminal investigation into the incidents.
One device was addressed to the Clinton home in Chappaqua, a suburb about 40 miles north of New York City. The other was addressed to Obama in Washington.
The incidents followed an earlier discovery Monday when police "proactively detonated" a pipe bomb found at a suburban New York residence owned by Soros, a billionaire philanthropist and Democratic donor.
Trump vowed to launch a "major federal investigation" into the suspected explosive devices. "We have to unify," he said. "We have to come together."
But Zucker took issue with the White House's approach to the incident. Trump has frequently knocked media outlets like CNN and the New York Times on social media, including Zucker himself.
"There is a total and complete lack of understanding at the White House about the seriousness of their continued attacks on the media," Zucker said in a statement posted on Twitter. "The president, and especially the White House press secretary, should understand their words matter. Thus far, they have shown no comprehension of that."