CMBS Investors Cautiously Let Retail Loans Back Into the Club
(Bloomberg) -- The commercial mortgage-backed securities world is getting comfortable with retail again -- albeit cautiously.
The percent of retail mortgages -- those tied to properties such as malls and stores -- bundled into CMBS deals rebounded this year after a steep decline last year, bucking the recent trend, according to Fitch Ratings Inc. The share slid starting in 2012, jumped in 2016 and then fell hard in 2017.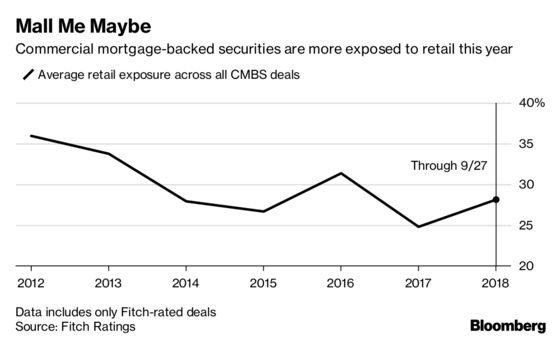 This could be a new start.
As it becomes clear which malls are going to survive the shakeup in American shopping habits -- and as investor appetites shift -- more such loans will likely find their way into mortgage-backed securities, said Mary Macneill, a managing director in the CMBS group at Fitch.
A $952 million CMBS deal being marketed this week by Wells Fargo and Barclays has nearly 40 percent exposure to retail properties, which exceeds the year-to-date average of 28 percent, according to a Fitch report.
The retail component includes two prominent super-regional malls, the Aventura Mall outside of Miami, which is the second largest loan in the pool, and the Christiana Mall in Newark, Delaware, which is the third largest loan.
Fewer regional mall mortgages have been bundled into new CMBS deals in recent years because many malls have performed poorly, but also because investors aren't afraid to tell issuers "if you're going to put a mall in a deal, it's going to have to be a no-brainer," said Robert Vrchota, also a managing director in the CMBS group at Fitch. Malls that do get put into new deals are likely to perform well, he said.
For investors, the retail question is complex.
When looking at individual deals "it's important to distinguish among retail risk exposures not simply by property type but also by geographic region," Christopher Sullivan, chief investment officer at the United Nations Federal Credit Union, said via email.
Overall, there are signs of life -- stores are closing at a slower rate than last year, Sullivan said, and same-store sales have benefited from more confident consumers.
Indicators like those "might suggest to investors that we may be closer to the beginning of the end rather than the end of the beginning with regard to the overall performance of the sector," he said.