Clorox Declines After Revenue Disappoints, Margins Narrow
(Bloomberg) -- Clorox Co. fell after forecasting narrowing margins this year and sales missed expectations, highlighting the company's challenging path as the pandemic boom wanes.
Organic sales, which exclude items like acquisitions and currency swings, decreased by 1% in the quarter ended March 31. Meanwhile, revenue of $1.78 billion last quarter fell short of the $1.86 billion projected by analysts.
Like many other packaged goods companies, Clorox is facing rising commodity costs across its most profitable segments. The company also cited higher expenses for manufacturing and logistics. Clorox said it offset its first margin contraction in 10 quarters with pricing.
The report shows the difficulties ahead as Americans shed their virus fears. While the company received a boost from brands such as Glad trash bags and Kingsford charcoal, Clorox's cleaning business weighed down results of its health and wellness unit, where revenue sank 8%.
Chief Executive Officer Linda Rendle said the company remains on track to deliver a previous forecast for organic revenue growth of 10% to 13% this year by meeting "consumer mega-trends that have accelerated in the last 12 months." Last quarter, the company warned investors that sales during the second half of 2021 would be little changed.
Demand for wipes was hurt by lower shipments of cleaning and disinfecting products, Clorox said. This comes after the company invested in doubling production capacity this year. Clorox also attributed the declines to supply constraints in some unnamed "key products."
Earnings per share will be in the range of $5.94 to $6.14 for this fiscal year, the company said. Embedded in that projection are non-cash impairment charges totaling $2.71 a share.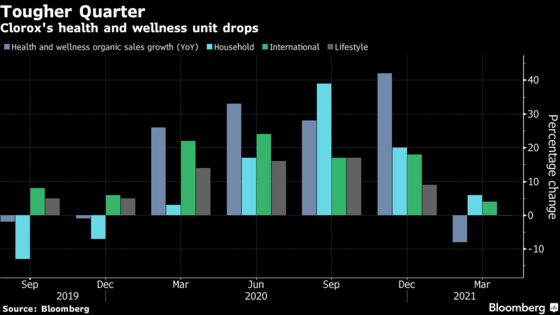 Clorox shares declined as much as 4.5% in New York. The stock had fallen 7.9% this year through Thursday.