Clorox CEO Sticking to Bold Post-Pandemic Plan After Stock Rout
(Bloomberg) -- A year after betting big that Clorox Co.'s sales boom would last long beyond the pandemic, Chief Executive Officer Linda Rendle says she remains convinced this is the case for an array of reasons, from a resurgent cold-and-flu season to a persistent shift toward working from home.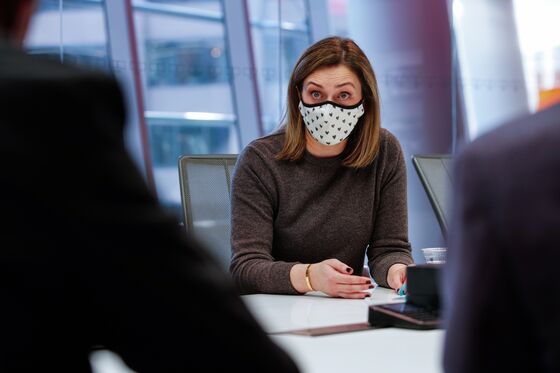 Investors, she figures, will come around as they slowly see her prediction prove true in months ahead. For now, they remain decidedly skeptical, having driven down the stock 30% from a pandemic high reached 15 months ago.
"We're controlling what we can control," Rendle, who took the helm as CEO a month after that stock peak, said Tuesday in an interview in New York. "To us, it's just performing quarter after quarter, showing the vision. And if you look at the fundamentals of what our company's exposed to, it continued to do strong."
Although it's well-known for disinfectant wipes and cleaning supplies, Clorox's brands are wide-ranging. The company also makes Burt's Bees personal-care products, Brita filtered-water pitchers and Hidden Valley Ranch salad dressing. 
Like many packaged-goods companies, Clorox is struggling with high commodity costs, labor shortages and supply-chain challenges. The Oakland, California-based company expects its gross margin, at 37% in the fiscal first quarter, to decline by 3 or 4 percentage points before beginning to expand again in the fourth quarter.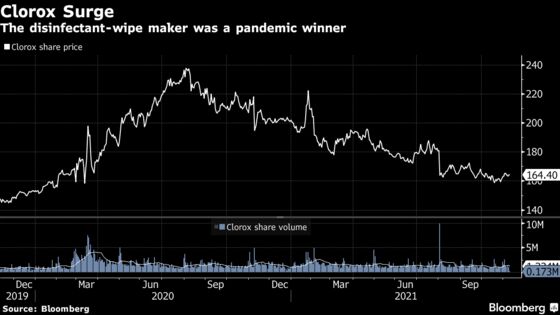 "We have every intention of restoring margins and we believe we can do it," said Rendle, at 43 the youngest female CEO of an S&P 500 company. "I do see these things starting to ease as the global supply chain rights itself. Our mantra is to take every action that we can right now and we can always take additional action."
To counter cost pressures, the company is increasing prices on 70% of its products this fiscal year -- on some of them, more than once. Rendle said she's prepared to raise prices more if needed. "We do think this cost environment is more pervasive than was originally thought months ago," she said.
Clorox capitalized early in the pandemic on consumers' worries that the coronavirus spread easily on surfaces, which turned out not to be the case. Even so, Rendle said, the company's customers are still cleaning more than they did pre-pandemic, with a more normal cold and flu season this winter likely to support use of wipes and sprays.