CLO Machine Becomes Well Oiled as Loan Rally Stalls
(Bloomberg) -- The collateralized loan obligation machine is back as the all-important arbitrage between leveraged loans and CLO-manager borrowing costs shows signs of improvement.
The improving arbitrage, buoyed by softer leveraged-loan prices, has been enough to kickstart CLO bond issuance this month. CLOs started coming out of the woodwork in mid-January, with $5.1 billion in supply so far this month, though less than the $8 billion seen in January 2018.
"I think it's a great time to buy leveraged loans," said Lauren Basmadjian, portfolio manager at Octagon Credit Investors LLC. "According to many buyers of CLO equity, the arbitrage is always difficult. But CLO assets have widened out more than liabilities." That makes the economics of CLO formation easier.
The CLO market stalled in early January after volatility slammed leveraged loan prices in December, depressing CLO purchases at the tail end of last year. New CLO issuance trickled to less than $6 billion in December from $12.7 billion in November and $10 billion in December of 2017, according to data compiled by Bloomberg News.
Falling loan prices typically help boost returns for CLO equity investors, a critical buyer base, while rising loan prices crimp returns. CLOs buy leveraged loans and repackage them into bonds for sale to Wall Street. They work by arbitraging the gap between the money brought in from the loans and the cost of borrowing for a CLO manager. Equity investors receive any excess cash flows between the two after the debt investors are paid in full.
"From an arbitrage standpoint, most investors would think that the arbitrage is better today than for most of last year," said Steven Oh, head of credit and fixed-income investments at money manager PineBridge Investments LLC. "Though the arb has improved, there's less certainty of execution in this environment."
After an early January bounce in leveraged-loan prices, the recovery has plateaued, which means prices of existing loans are up from the nadir but still lower than most of the last two years. And new loan deals this month are being finalized with wider spreads and more new-issue discounts than they were last year, except December. The S&P/LSTA Leveraged Loan index popped to return 2.7 percent in the first six sessions this year, and is now up 2.5 percent.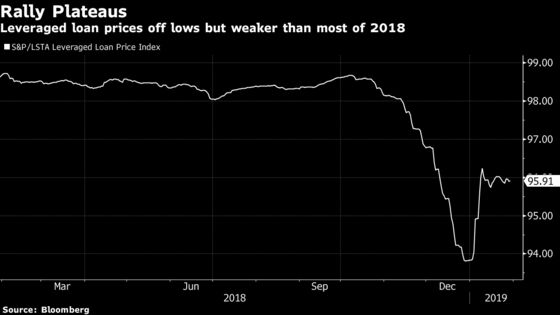 Many CLOs aren't seeing the full benefits of the benign market as they began buying assets before the leveraged loan market began weakening, according to Maggie Wang, researcher at Citigroup Inc., and though the arbitrage can be challenging for them, "it's working enough to kick off issuance."
"We have found in our research that CLO equity returns do not solely depend on day one arbitrage," Wang said. "Day one arbitrage is psychologically important and it locks in your funding costs, but it's important to note that CLOs are active managers of portfolios and reinvestment vehicles."