Australian Drug Maker Jumps 51% After Winning FDA Approval
(Bloomberg) -- Clinuvel Pharmaceuticals Ltd. surged the most in five years after the U.S. Food and Drug Administration approved its treatment for a rare skin disorder that causes sensitivity to light.
Shares of the Melbourne-based bio-pharmaceutical firm jumped as much as 57% in Sydney, the most since October 2014, after the U.S. allowed the use of the drug Scenesse to treat erythropoietic protoporphyria. Clinuvel rose to a record high of A$44.39, valuing the company at A$2.2 billion ($1.5 billion).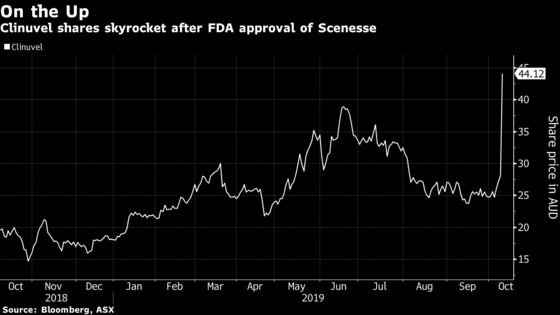 Erythropoietic protoporphyria induces skin damage from exposure to light, forcing patients to "lead an indoor or nocturnal existence," Clinuvel said in a release. Scenesse treats the genetic disorder by increasing the skin's levels of melanin and blocking ultraviolet radiation and sunlight, according to the company's website.
Scenesse is the first FDA-approved treatment to help erythropoietic protoporphyria patients increase their exposure to light, the agency said. The drug was approved for use in Europe in December 2014.
Clinuvel intends to distribute Scenesse directly to U.S. hospitals within 12 months, Chief Executive Officer Dr. Philippe Wolgen said in a phone interview. The company also plans to sell the drug at the same price worldwide.
A single price-point "is quite alien to our industry," Wolgen said. "We wanted to show the American payers that they would not be paying more for a pharmaceutical product than the Europeans and the Swiss do."