Climate Change May Double the Risk of Breadbasket Failures
(Bloomberg) -- Climate change will double the risk of simultaneous crop failures across the world's top-producing regions, risking a surge in food prices.
Extreme weather will see the chances of a multi-breadbasket crop rout occurring at least once within a decade rise to 18% by 2030, up from 10% today, according to analysis published by McKinsey Global Institute, which quantified the changing probability of harvest failures.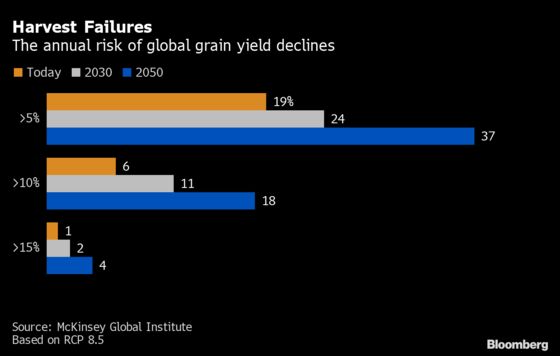 The increased prospect of failure is driven mainly by risks to corn, soy, and rice production because rising temperatures and more frequent droughts hurt growing conditions. Together with wheat, these three crops make up almost half of the daily global diets and their production is centered in a few major regions, making the food system vulnerable to disruptions.
"A few geographically concentrated extreme weather events in those production regions could affect a large portion of global production," McKinsey said in the report.
The analysis is based on the most-pessimistic scenario of how climate change is likely to play out this century. Climate scientists make extreme assumptions to stress test the complicated models that can help predict the future. Thus, any policy that helps lower emissions could help avoid some of the worst-case effects laid out in the report.
Increasing production and storage in good years and improving flexibility in the use of food crops to maximize calories consumed could go a long way to lessen that risk, it said.