Clemson Freshman's Wait To Get Into NFL Draft May Cost Him Millions
(Bloomberg) -- Trevor Lawrence lit up college football on Monday, throwing for 347 yards and three scores in Clemson University's national-title blowout over favored Alabama. His performance drew heavy praise from scouts, who see the freshman quarterback as a future NFL star.
That future won't come soon, however. The National Football League's eligibility rules prevent Lawrence from joining for another two years, a policy that could cost the 19-year-old at least 11 percent of his career earnings under the league's current pay structure, according to John Vrooman, a sports economist at Vanderbilt University.
In addition to missing out on an immediate pro football paycheck -- and risking injury while playing for free in college -- Lawrence faces another problem. The NFL's next collective bargaining agreement, or CBA, could be less generous to rookies.
"The new CBA is the elephant in the room," Vrooman said.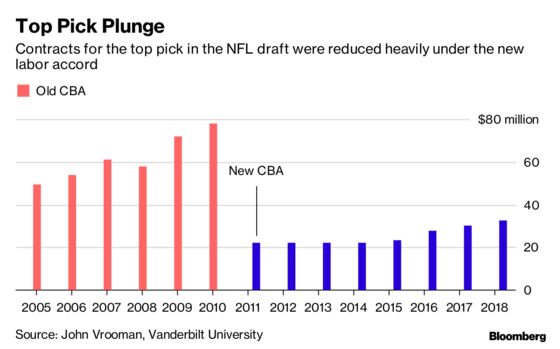 If Lawrence joins the NFL as soon as he's eligible, he will enter the league during the first year of a new labor accord (the current contract expires at the end of 2020). During the last negotiations, rookie wages were sharply reduced, meaning the top players drafted 10 years ago were making significantly more than the ones who will be drafted this June.
And the disparity may only grow. Since the NFL union is comprised of players already on league rosters, there's less motivation to advocate for those who haven't joined yet, Vrooman said.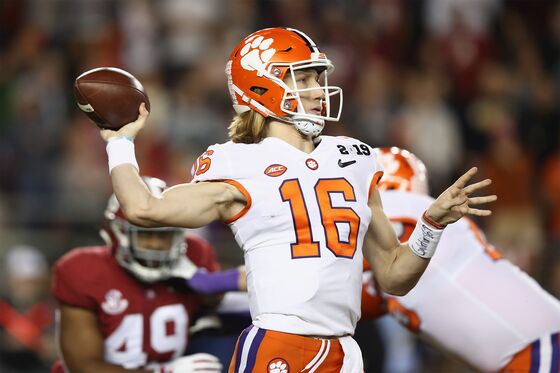 "The really bad news for Lawrence and his classmates," Vrooman said, "is that the current rookie capped labor market is probably better than the one owners will ultimately impose, and the veterans will accept on their behalf, sight-unseen in the new CBA."
In 2010, the last year under the previous CBA, top pick Sam Bradford signed a $78 million rookie contract. The following year -- under the new labor accord -- top pick Cam Newton signed for just $22 million. Baker Mayfield's 2018 deal with the Cleveland Browns was $33 million, still less than half of Bradford's rookie haul.
There's also the time value of Lawrence having to wait two years to start earning NFL money. After crunching the numbers, Vrooman estimates that the two-year delay will result in an 11 percent reduction in total earnings, regardless of how long or how well he plays.
NFL rules state that a player must be three years removed from his graduating high school class to be eligible to play in the league. Much like the oft-discussed NBA age limit, this is a rule negotiated by the league and its players union. The National Collegiate Athletic Association isn't directly involved.
NBA stars like LeBron James and Kobe Bryant have proved that elite athletes can go straight from high school to the NBA and compete almost immediately. Football players typically need more experience.
But Lawrence might be different. He was the top-rated college prospect as a Georgia high schooler, and just became the first true freshman quarterback in 33 years to lead his team to a national title. At 6-foot-6 and 215 pounds, he's not far physically from NFL quarterbacks like Jared Goff (6-foot-4, 222 pounds) and Tom Brady (6-foot-4, 225 pounds).
Gil Brandt, who's been in NFL player development for 60 years, called him "the best true freshman QB I've ever seen." An unidentified scout went one step further with Bleacher Report, saying Lawrence could be the best NFL prospect ever. "His ceiling is limitless," the scout said. "He makes throws now that guys in our league can't make."
The NFL's age limit has been challenged in the past. Back in 2004, Ohio State running back Maurice Clarett sued to be allowed to enter the NFL Draft a year earlier than scheduled. (Clarett had been ruled ineligible for his sophomore season due to NCAA violations and wanted to continue playing football somewhere.)
The age limit was initially ruled to be an antitrust violation, but it was upheld by a higher court and Clarett was forced to wait to enter the NFL.
Clarett was never able to bounce back from the lull between his stellar college career and his opportunity in the NFL. He was taken in the third round of the 2005 draft by the Denver Broncos but was cut before he played a single NFL down.