Clemson Football Wins on the Field But Can't Compete on Profit
(Bloomberg) -- Clemson University stands out among the four teams playing in this weekend's college football semifinals. It's the only school to make each of the last five playoffs and has more national championships in the past 15 years than the others combined.
Financially, however, the Tigers aren't in the same league as others in college football's royalty. They enter this weekend's semifinals earning just a fraction of what other playoff teams generate annually.
Clemson made a $7.6 million profit on football in fiscal 2018, according to documents obtained through open-records requests. That's dwarfed by the University of Oklahoma's $73.3 million, Ohio State University at $64.6 million and Louisiana State University's $55 million.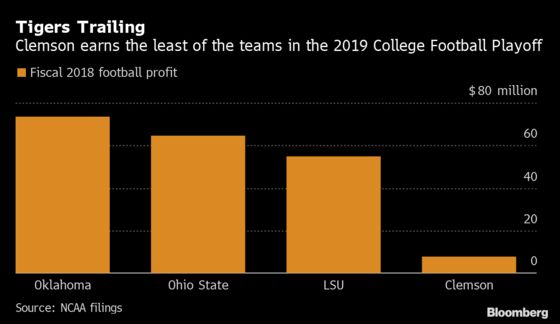 A number of factors explain the shortfall. Clemson, the smallest of the four schools, sold $24.9 million in tickets in 2018, the lowest total and less than half of Ohio State's $59.3 million. The school also gets the smallest media payment of playoff teams, by virtue of playing in the Atlantic Coast Conference, which doesn't attract the same attention as the Big 12, the Big Ten and the SEC.
Clemson also reported the highest football expenses in 2018, according to the filings. Tigers coach Dabo Swinney is the highest paid coach in the country, with a 10-year contract worth more than $93 million.
LSU faces Oklahoma in the first College Football Playoff semifinal, at 4 p.m. Eastern time Saturday. Clemson takes on Ohio State at 8 p.m. The winners will meet in the championship on Jan. 13 in New Orleans.