Clemson Blowout of Alabama Draws Smallest TV Audience Since 2012
(Bloomberg) -- Clemson's 44-16 blowout of favored Alabama in Monday's college football title game delivered the smallest TV audience for the championship in seven years.
Clemson's upset produced a preliminary 14.6 overnight rating across ESPN's multiple telecasts, down from 16.7 for Alabama's overtime win over Georgia last year, according to a web posting by the network. It was the lowest for the national title game since 2012, when a single telecast on ESPN drew a 13.8 overnight rating.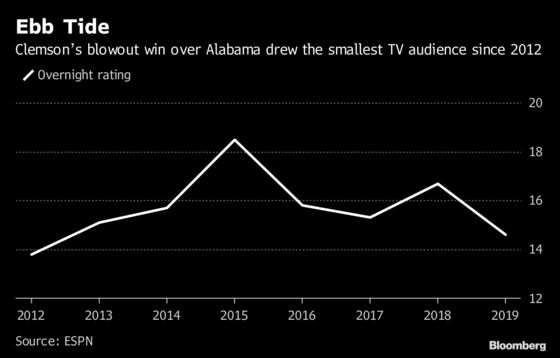 The College Football Playoff's championship game, now in its fifth season, is generally the most-watched cable event of the year, and despite the drop, this year's game may be no different. Full audience numbers should be released later this week. Overnight ratings are a fast metric based off viewership just in the country's largest markets. Each rating point represents 1 percent of the TV homes.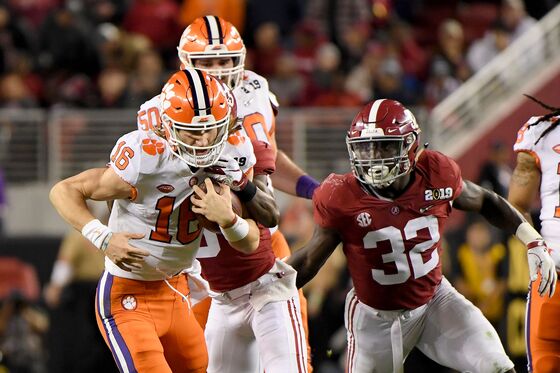 Ratings for the game, held at Levi's Stadium in Santa Clara, California, were likely affected by the lopsided score -- Clemson was up by two touchdowns with four minutes left in the second quarter and Alabama didn't score over the final 44 minutes of game clock. There was also likely some fatigue about the match-up, as these two teams have now met four times in the past four playoffs, including three finals.
The game's location -- the home of the NFL's San Francisco 49ers -- was controversial, too. The distance from both schools, plus the high price of travel and accommodations in the Bay Area, led to the softest ticket market yet for a CFP Championship game. That said, in-person demand and broadcast demand often function independently of one another.