Citigroup Still Sees Stock Gains This Year, Says Buy on Dips
(Bloomberg) -- Concerns that the recent slide in global stocks could mark the beginning of a bear market are misplaced, and investors should keep buying on dips, according to Citigroup Inc.
Global equities should still rise 4% this year, in line with forecast earnings growth, so any further declines in prices would make expected returns more attractive, wrote strategists including Robert Buckland in a note Thursday. The MSCI AC World Index by Friday had practically erased its 2020 rise on fears about the spreading coronavirus.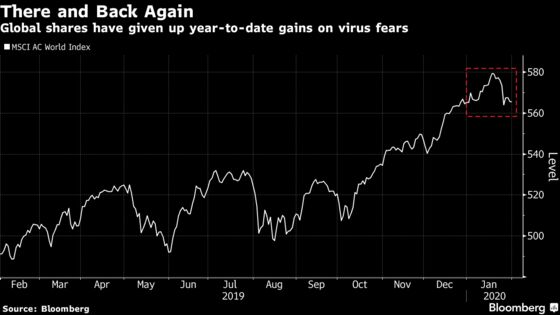 "As markets fall so our targets are starting to look more interesting," the strategists wrote. "The bigger the dip over the next few weeks, the more interested we would get."
Global stocks have been under pressure since the seriousness of the epidemic became clear early last week, while havens from Treasuries to gold have rallied. The MSCI Inc. world benchmark has fallen about 2.3% since Jan. 20, with the MSCI Asia Pacific Index down about 5% over the same period.
Experience from the 2003 SARS outbreak suggests equities, particularly in Asia, will keep declining until coronavirus infections stabilize, with cyclical sectors most vulnerable, the strategists said.
Still, the number of "red flags" on Citigroup's "Bear Market Checklist" of 18 warning signs for the global stock market is too low to expect a severe sell-off, they added.
"Five out of 18 just isn't enough for us to stop recommending that investors should keep buying the dips," they wrote. "We don't need all 18 to turn red to finally turn bearish, but we certainly need more than 5."