U.S. Rate Volatility Primed to Drop With April Lull on Horizon
(Bloomberg) -- If seasonal patterns are anything to go by, volatility in U.S. rates could slump next month.
In nine of the past 10 years, a volatility gauge based off 3-month 10-year at-the money swaptions fell in April. And there's little reason to suppose that the market won't witness a similar drop this time around in gamma -- a derivative that measures how quickly the price of an option moves. For that reason, Citigroup Inc. strategists are advising clients to hedge by selling a so-called straddle that involves both bullish and bearish options.
Why is April such a bad month for gamma? One possible explanation is the Easter holiday as "market participants could be less active in general," Michael Chang, a Citigroup strategist, said in a note.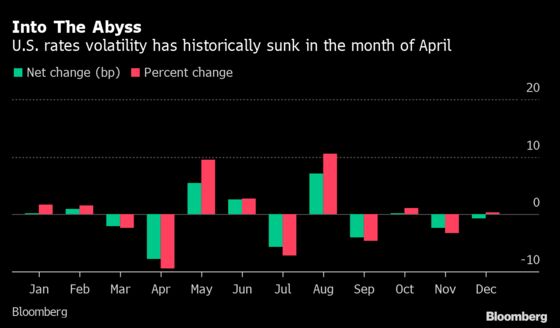 He also flagged another seasonal effect: Potential buying flows from Japan after the fiscal year-end on March 31 causing potential downward pressure on yields and acting as an "additional bearish factor for vol given the positive rate/vol directionality."

To be sure, there is the potential for bumps along the way for any expected drop off in volatility, including this week's March jobs report on Friday. Before that, traders will have to navigate quarter-end rebalancing, and any development of an infrastructure spending plan could also provide a hurdle for lower Treasury yields.