Citigroup Increases Bullish Treasuries Call as U.S. Growth Slows
(Bloomberg) -- Goldilocks has left the U.S. economy and bond bears will likely go with her, according to Citigroup Inc.
The bank's strategists increased their overweight recommendation on Treasuries Thursday. The likelihood economic growth has peaked raises the risk of an "accident" as Federal Reserve policy turns restrictive, according to their client note. The low correlation of U.S. government bonds to equities can only last for a limited period, they said.
"No longer in Goldilocks macro conditions, the equity outperformance to fixed income diminishes," strategists including Jeremy Hale wrote in an asset allocation report. "As such, we think holding a +2 in Treasuries at these current valuations makes sense." Under the bank's recommendation system, '+2' refers to an overweight call.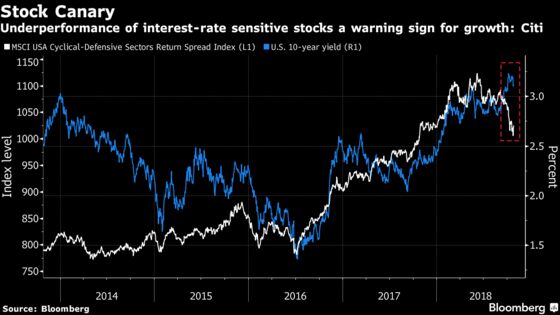 The recent underperformance in interest-rate sensitive sectors in the equity market could be a "canary in the coalmine" that Fed policy is becoming too restrictive, Citigroup said. While absolute growth levels remain high, the rate is falling and could accelerate given the Fed stance, it said.
Despite the rout in global equities this week, expectations for the Fed to raise interest rates for a fourth time this year are little changed at about 75 percent, according to the money markets.
Fed Vice Chairman Richard Clarida downplayed the potential impact of recent stock market turbulence on the central bank's policy. Fundamentals of the U.S. economy are "very, very solid," he said in a speech in Washington.
The benchmark 10-year Treasury yield retreated 8 basis points this week to 3.11 percent on Friday. It reached a seven-year high of 3.26 percent earlier this month.