Citi's Fixed-Income Traders Likely to See 10% Bump in Bonuses
(Bloomberg) -- Citigroup Inc. is planning to increase the bonus pool for its fixed-income traders, who are set to post their best performance in more than a decade.
The overall bonus pool for traders who deal in fixed income, currencies and commodities is likely to increase at least 10%, while the pool for equities traders will probably be left unchanged, according to people familiar with the matter. A spokeswoman for Citigroup declined to comment.
The bank's fixed-income trading revenue is expected to jump 34% this year to $17.3 billion, according to estimates compiled by Bloomberg, putting it on track for the best performance since 2009. Still, Citigroup had to balance traders' standout performance with the $17 billion in provisions for souring loans it set aside in the first nine months of the year amid the coronavirus pandemic. That weighed on overall earnings, which fell more than 50% in the same period.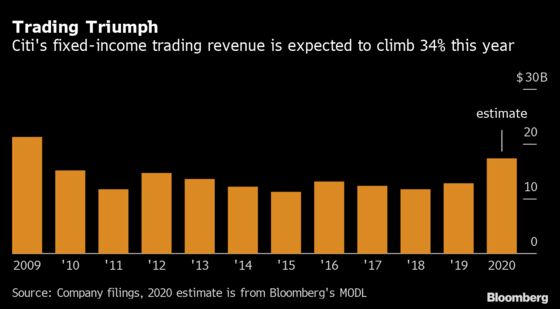 "We've got to be mindful of our returns and our shareholders, we've got to be mindful of our environment that we're in and the many challenges that are out there for people and certain businesses," Chief Executive Officer Michael Corbat said in an interview at a Bloomberg event this month. "And at the same time we have to be competitive. In our industry, we're fortunate to have good talent. And we've got to recognize that."
Citigroup's rates and currencies traders generated $10.1 billion in revenue this year through September, up 45% from a year earlier, as the pandemic sent markets gyrating. Within spread products and other fixed-income desks, revenue climbed 36% to $4 billion.
Traders at Citigroup appear to be faring better than their peers at Bank of America Corp., where executives floated plans to keep the bonus pool for sales and trading at last year's level despite a 20% jump in revenue during the first nine months of the year. Goldman Sachs Group Inc. is planning to boost bonuses for the trading division by as much as 20% after the group posted a 49% surge in revenue.