Citi Joins Morgan Stanley in Backing Bet on Faster Fed Hikes
(Bloomberg) -- More Wall Street banks are wagering that the Federal Reserve will hike rates at a faster-than-expected pace, with Citigroup Inc. joining Morgan Stanley in backing trades that will profit if the central bank does just that. 
On Wednesday, Citigroup analysts recommended a June 2022-June 2025 eurodollar steepener, a trade that would profit if additional rate-hike premium is priced into that part of the yield curve. Those at Morgan Stanley are currently backing a similar trade, but targeting a steeper spread between the September 2022 and December 2023 contracts.
Spreads on eurodollar futures are a popular method used for trades to position on an expected path of the Fed's policy rate.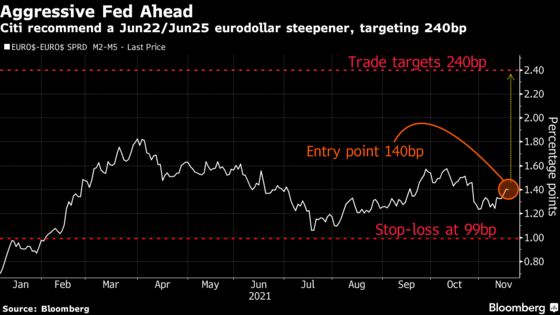 Overnight-indexed swaps show that 19 basis points, or around 76% of a typical rate hike, is priced into the June Fed meeting. From that point, there is around 150 basis points -- or six additional hikes -- priced by the end of 2025.
Citigroup analysts said that's too shallow a path. So the bank initiated a June 2022-June 2025 steepener trade at a price of 140 basis points, targeting the spread will reach as much as 240 basis points.
"We think that as lift-off gets under way, the slope is likely to increase as some of the uncertainties around the global economy, such as supply-chain bottlenecks, start dissipating," Citigroup strategist Jabaz Mathai said in a report.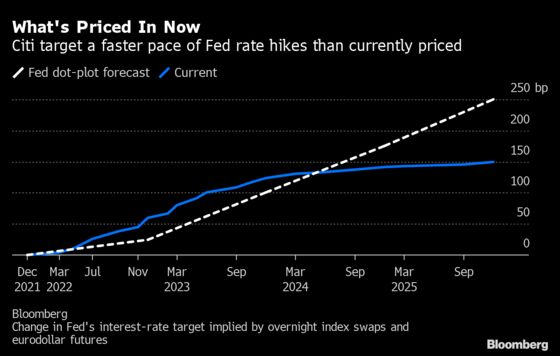 Earlier this month, Morgan Stanley strategists said the Fed could raise the policy rate nine to 10 times in this cycle, as opposed to about six times that the markets assume.
"We think the market's terminal rate assumption can be faded," they wrote in a research note.