Citi Helps Revlon Rework Debt Despite $900 Million Payment Error
(Bloomberg) -- If Citigroup Inc's accidental $900 million payment to Revlon Inc. lenders strained the bank's relationship with the cosmetics giant, you wouldn't know it: The two continue to do business together.
The makeup company worked with Citigroup as recently as this week to close an amendment to its revolving credit line, Revlon said in fourth-quarter results Thursday. That's after Citigroup made the infamous payment error in August and recently stepped in as a Revlon creditor, forcing the bank to revise its results last month after it wrote down a portion of Revlon's loan.
The bank had served as Revlon's loan administrative agent on previous deals, collecting and distributing interest payments and providing other housekeeping services. Citigroup facilitated debt deals that left a group of Revlon lenders fuming, then accidentally sent those firms hundreds of millions of dollars it then asked to be returned. The money came from Citi's accounts, and did not impact Revlon's existing loan.
News the companies have maintained their relationship comes as Revlon reported results for the critical holiday quarter. Although sales have fallen for three straight years -- a combination of changing consumer habits, rising competition from startups with strong social media presence and the Covid-19 pandemic -- the company reported sequential improvement in the latest quarter.
Net sales fell 10.4% in the fourth quarter ended Dec. 31, far better than the 39% drop reported during the height of the pandemic. Excluding $118 million of estimated impact from Covid-19, the company said net sales would have been positive. E-commerce has also become a bigger chunk of sales for Revlon and most of its retail peers.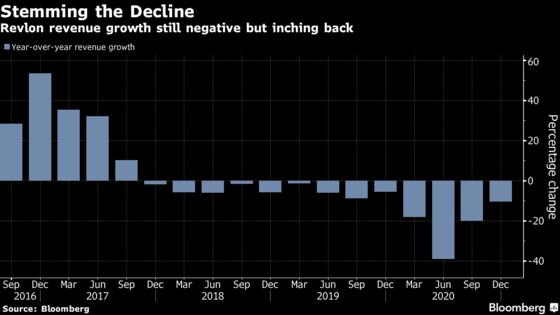 Revlon shares jumped as much as 9.4% to $11.58 in regular trading Thursday after reporting results. Its 6.25% bonds due 2024 last traded traded Feb. 19 around 34.25 cents on the dollar, according to Trace data.
Backed by billionaire Ronald Perelman, Revlon has launched various debt transactions to ease its borrowings and buy more time to focus on a business turnaround. It completed a debt exchange in November that eliminated the potential for a bankruptcy filing in the near future.
On Thursday, the company said a previously announced restructuring is on track to provide $200 million to $230 million of annualized cost savings by the end of 2022. Revlon completed an amendment to its $450 million revolver on March 8 with Citigroup as agent, extending the debt facility by two years to 2023.
The company reported total liquidity of roughly $250 million at the end of 2020, including about $97 million of unrestricted cash and $168 million of available borrowing capacity.
The company is "comfortable" with its liquidity position, management said on a call to discuss the results.