Citadel Securities Says Retail Is 25% of the Market During Peaks
(Bloomberg) -- Citadel Securities, the market-maker that counts Ken Griffin as its largest owner, said retail traders now account for about a fifth of stock-market trading and as much as a quarter on the most active days.
"Some of that is obviously triggered by structural changes like zero commissions," while pandemic-related volatility has also increased retail trades, Joe Mecane, Citadel Securities' head of execution services, said Thursday in a Bloomberg Television interview. "We continue to see retail investors becoming a more significant liquidity source in the marketplace."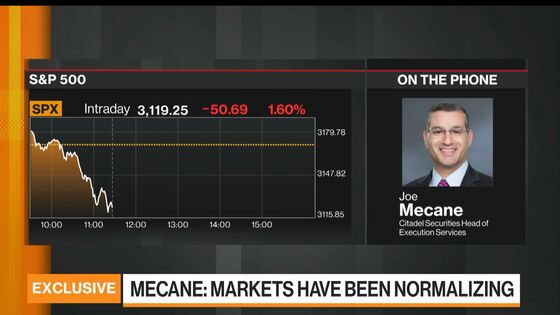 Citadel Securities has benefited from surging volume, handling more than a fifth of equity trading and 40% of equity retail trades, according to the Chicago-based company. Moves by brokerages such as TD Ameritrade Holding Corp. and Charles Schwab Corp. offering free trades pushed the retail segment to about 15% of the market by the end of last year, up from its historical 10% range, Mecane said.
March's surge in volatility pushed that level even higher. Mecane said it's unclear whether the market swings will persist as investors factor in more information about the coronavirus and the U.S. presidential elections later this year.
Even with the surge in activity, retail investors aren't likely to be driving the market overall, he said.
"Retail is clearly a significant force, but they're not going to be the ones that are solely able to drive valuation or market levels," he said.